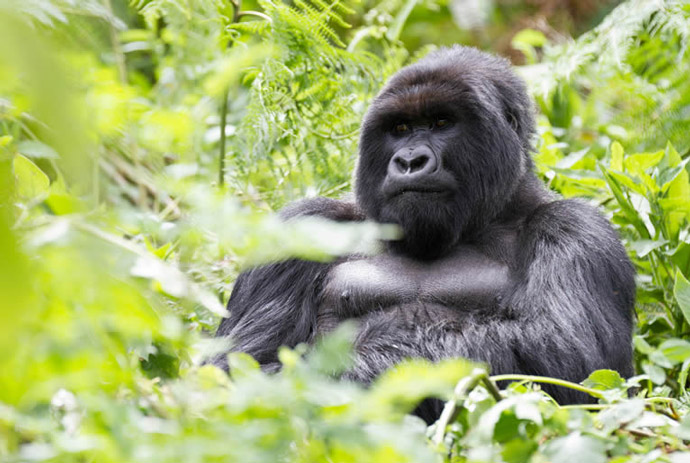 Mountain gorilla trekking is such a vibrant adventure that is hard to imagine how long it takes for someone to see the rare primates. Uganda is one of the three countries where this adventure takes place, Rwanda and the Democratic Republic of Congo. There are many amazing attractions in these three countries but gorilla trekking ranks best due to its unique experience that draws millions to Africa for gorilla trekking safaris every year. The forest land of gorillas – Virunga massif was also home to many locals Enjoy this fantastic cultural experience in Bwindi forest national park and Mgahinga national park the two mountain gorilla parks in Uganda. Especially the Batwa who later allowed vacating the forest for the conservation of primates. Being the top wildlife encounters, it does not only attract the attention of tourists but also conservationists, park management bodies, government, and many more. Take a look at the top five mountain gorilla trekking tour updates if you planning a trip to Africa or some time to come.
Uganda Confirmed Gorilla Permit Price Stability
Looking at classic gorilla trekking tours, Uganda offers exceptional gorilla safaris in Bwindi Forest and Mgahinga national park. Uganda the home to half of the world's surviving mountain gorillas attracts hundreds every year for gorilla tourism. However, Uganda is now the few one of the budget gorilla trekking tour destinations in Africa with affordable gorilla permits at US$700 per trek. This price goes lower if you visit the country during gorilla tourism promotional months. In case you missed tracking in Rwanda when permits were still at US$1500, Uganda is still open and cheap for budget gorilla trekking tours until 2019 when the Uganda wildlife Authority is hoping to make a few changes to gorilla permit prices and park entrance fees.
 Tourist Visa to Uganda, Rwanda & Congo
Apart from a few nationals, most travelers to Uganda, Rwanda, and Congo for gorilla safaris need a tourist visa that is valid for a period of 90 days. Congo tourist Visa goes for $100, Rwanda tourists visa goes for US$30 and Uganda tourist Visa goes for only US$50. Better to apply online before travel though tourists can obtain them upon arrival at either Entebbe International Airport or Kigali international airport. However, those planning to track gorillas in Congo better book their Visa online before leaving your home for your upcoming Congo gorilla tour.
Congo Gorilla Permits
Many travelers find it hard to obtain Congo gorilla permits yet it's another wonderful gorilla trekking destination in Africa surrounded by lots of attractions and adventures like Nyiragongo volcanoes. Just book your Congo gorilla trek with a tour expert that will work on all the trip essentials including accommodation, transport, permits, and Visa since they are familiar with the entire destination and country. However, Congo gorilla permits are affordable and each gorilla permit per trek goes for $400 high season while low season permits cost only $200 per trek hence being also one of the budget gorilla trekking destinations in Africa.
Discounts and Travel Times for gorilla trekking
It's known that the dry months of June-October and December –March are the best months to track gorillas in the wild jungle forests. Though one can also track gorillas during other months of the year in April, May, and November the time for discounted gorilla permits and tours. Looking at gorilla trekking tours and holidays, big spenders find it OK to travel during dry months and tight budget travelers use the discounts on gorilla permits to save for their upcoming holidays. However, not all gorilla trekking destinations offer discounts on tours other than Uganda and the Democratic Republic of Congo. For those looking at booking budget gorilla trekking trips, none other than Uganda and Congo.