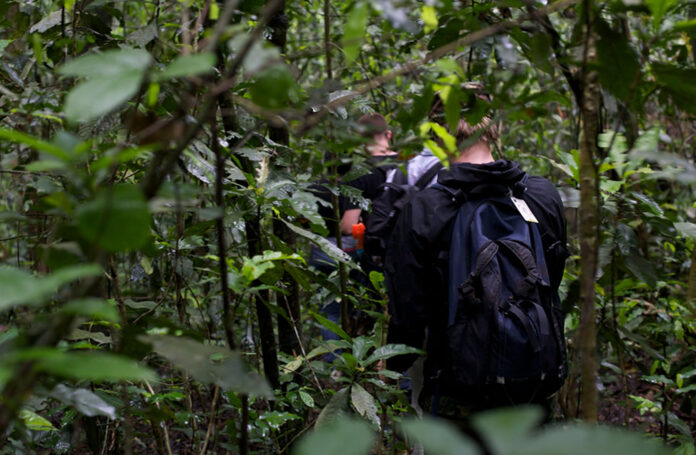 Gorilla trekking is the top tourist activity in Uganda and is followed by chimpanzee trekking. Gorilla eco-tourism was introduced in Bwindi forest, southeastern Uganda, in the early 1990s to conserve and protect the endangered species of great apes and to generate revenue for the Government and local people says the Uganda Wildlife Authority.
In Uganda, the cost of Gorilla trekking goes up to US$700 per person while chimpanzee trekking cost US$200 per person in Kibale National Park and US$50 per person in Kyambura Gorge, Kalinzu forest, Toro- Semuliki Game reserve, and Budongo Forest.
Uganda is gifted with five chimpanzee trekking destinations namely; Kibale National Park, Toro- Semuliki National Park, Kyambura Gorge, Kalinzu forest, and Budongo forest. On the other hand, there are two Gorilla trekking destinations in Uganda.
A gorilla trekking safari requires a high level of fitness and serious hustle to meet them in their natural habitat. On the other hand, chimpanzee trekking is less strenuous, and a low level of fitness is required because they are easily found especially in Kibale National Park.
Gorillas prefer staying in uplands, especially mountain gorillas. An example is Volcanoes National Park in Rwanda, Virunga National Park in DRC, or Mgahinga Gorilla National Park.
Two sessions of chimpanzee trekking in Kibale National Park; Morning and afternoon session. On the other hand, Gorilla trekking is conducted once a day to avoid stressing them and to preserve their natural habitats.
Chimpanzees do make a lot of noise, especially when approached by people (trekkers).  The experience is amazing though some visitors make find it unfriendly to spend an hour in a noisy environment. On the other hand, Gorillas rarely make noise and when they resort to making nose, is a sign of charging. Seek advice from the rangers or vacate their home range.
Chimpanzees spend more time in tree branches and trekkers find it hard to take a clear shoot and viewing. However, lucky visitors find them on the ground to take clear photos. On the other hand, Gorillas spend most of the day time feeding on the ground and thus offering a better photographing experience.