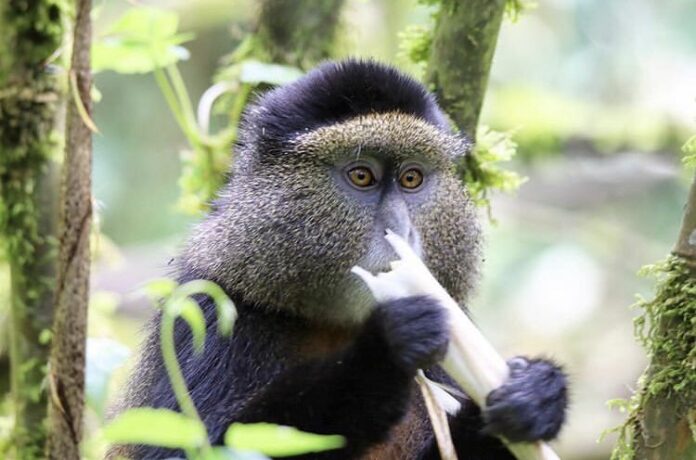 Also referred to as Cercopithecus mitis kandti, Golden monkeys are frisky primates within the Virunga massif, characterized by golden-brown fur color on their backs and flanks. With a population of only about 5000 individuals in their natural habitat, these creatures were categorized as "endangered" under the IUCN Red List. They are therefore found in Rwanda's Volcanoes National Park, Uganda's Mgahinga Gorilla National Park, and Congo's Virunga National Park although the best places to trek/see them in East Africa are the first two places (mainly for security reasons and well-organized trekking processes).
Just like other primate treks (chimpanzees and mountain gorillas), trekking golden monkeys in East Africa is conducted on foot. These primates are small and move faster through the bamboo forest as they search for food (mainly shoots). They live in large troops of up to 5 to 100 individuals in addition to roaming over vast territories in trying to find food.
How Golden Monkey treks are conducted in East Africa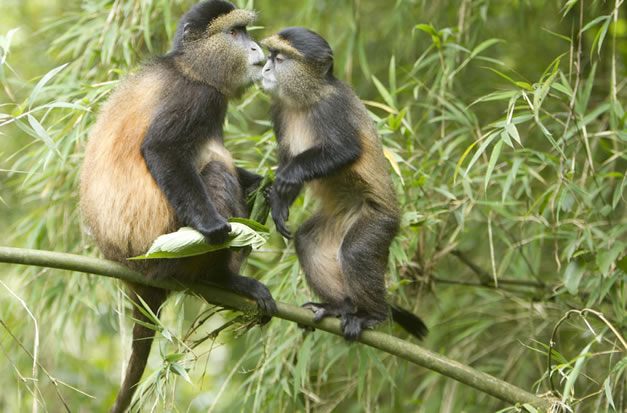 For both Rwanda and Uganda, golden monkey treks begin with converging at the Park Headquarters (Kinigi Park Headquarters and Ntebeko Visitor Center respectively) for registration and briefing that starts at 7:00 AM. This briefing is mainly done to get participants acquainted with the dos and don'ts of the activity. For golden monkey treks in Volcanoes National Park, participants are first driven for about 20 minutes to the Park boundary then about 8:20 AM the search for these creatures begins and lasts 1-3 hours depending on the movement of these primates. For Mgahinga, treks immediately start at 8:00 am and also last 1-3 hours of walking through the lower slopes of the Virunga Mountains characterized by bamboo forests.
Participants have to be at least be 12 years and unlike gorilla and chimpanzee treks that limit the number of trekkers, for golden monkey tracking, there is no limit to the number of people undertaking the adventure.
Best Time to see Golden Monkeys in East Africa
There is no particular best time to see Golden Monkeys in East Africa because treks are conducted all year round. However, the dry season offers less challenging treks with drier trails and forest floors while the wet season offers more challenging adventures with muddy and slippery hiking trails hence usually avoided by some visitors.
How to book Golden Monkey treks in East Africa
Permits for Golden Monkey trekking in East Africa are only issued by the tourism governing bodies of respective countries-Rwanda Tourism Board and the Uganda Wildlife Authority. However, bookings for these permits can be done directly to these governing bodies or indirectly through the trusted Tour Operators. You will be required to provide passport details and clearly indicate trekking dates to enjoy this unmatched primate trekking experience. Permits for Uganda cost only $90 for normal treks and $100 for the Habituation Experience while in Rwanda it costs $100.
Essentials for Golden Monkey treks in East Africa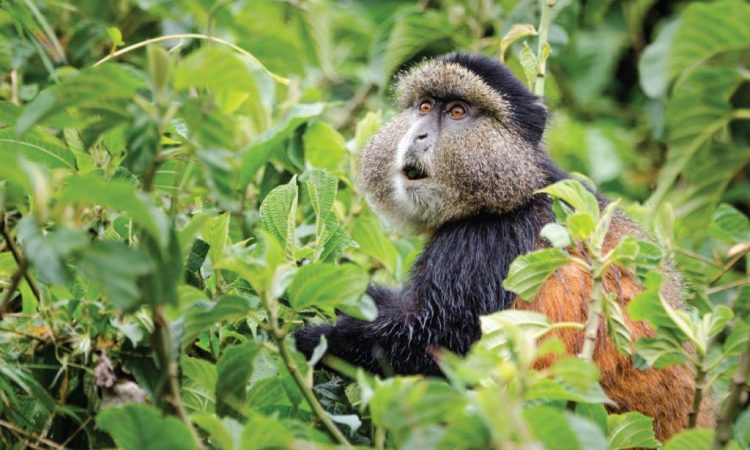 Some of the essentials for Golden Monkey treks in East Africa include a camera, flashlight, hat, rain jacket, comfortable hiking boots with ankle support, rain jacket, backpack, pair of binoculars, safari pants, toiletries (wet wipes, toothbrush, hair gel, toothpaste, sunscreen, gardening gloves, sunglasses, long-sleeved shirts, cotton socks, and many others.
Golden Monkey Tracking in Uganda
Golden monkey tracking in Uganda is conducted within Mgahinga Gorilla National Park, south-western side of the country. This small National Park extends for only about 34 square kilometers and is also home to mountain gorillas hence "where gold meets silver". Besides the normal golden monkey treks where participants are offered one hour of observing and photography after trekking them for 1-4 hours, Mgahinga Gorilla National Park also offers visitors the chance to spend up to four hours with these endangered small creatures through the outstanding "Golden Monkey Habituation Experience.
Most Golden Monkey treks for Mgahinga Gorilla National Park start from Kampala/Entebbe and involve driving for 8-9 hours with opportunities of stopping at the Uganda Equator for photography as well as Mbarara Town for Lunch. Alternatively, tours can begin in Rwanda's Kigali City with border crossing via Cyanika and this drive takes only 3-4 hours. Also, flights can be arranged directly from Entebbe International Airport or Kajjansi Airstrip to Kisoro Airstrip.
Golden Monkey Tracking in Rwanda
Just like gorilla trekking safaris, Golden Monkey Tracking in Rwanda is undertaken within Volcanoes National Park, a 160-square kilometer Protected Area within the north-western side of the country. This Park offers two habituated golden monkey troops comprising of up to 100 individuals. This Park is the most accessible with a 2-3 hours' drive from the City.