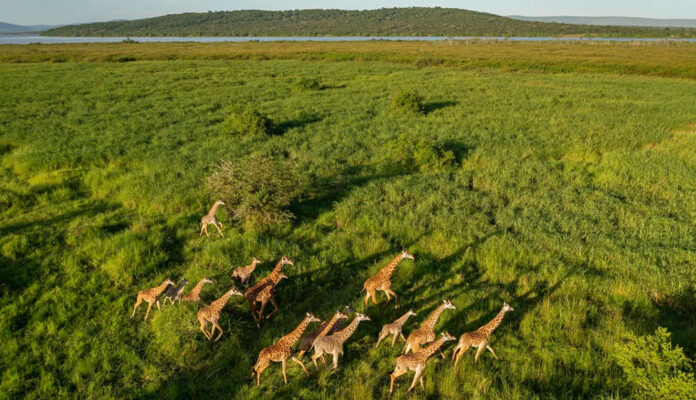 Visiting Akagera National Park is undeniably one of the best decisions anyone who visits Rwanda can make. This Park is a home to some of the interesting wildlife and bird species. Akagera National Park is one of Rwanda's popular destinations that keep getting better every day.
The introduction of the Lions in 2015 made it a number one travel destination, then the introduction of the Rhinos in 2017 have made it exceptional and beyond imagination. This spectacular Park was gazetted in 1934 is situated in North-Eastern Rwanda, on the border with Tanzania and currently covers an area of 1122 square kilometers, although it used to cover about 2500 square kilometers before part of it was degazzetted to settle Rwandan citizens after the civil wars.
This National Park derives its name from River Akagera- a tributary of Lake Victory that drains the Eastern boundary of this country and feeds into a series of Lakes, the largest Lake being Ihema that of about 90 square kilometers. Akagera River also feeds into marshlands and wetlands that form part of the Central and Eastern Africa's protected wetlands. What makes this Park a place to be is that most of it is dominated by several lakes that create spectacular scenery.
What to see and do in Akagera National Park
There are a variety of mammal and bird species that can be seen on a Rwanda Safari through Akagera National Park. Some of the wildlife include the big five animals (lions introduced in 2015, leopards, elephants, buffaloes and Rhinos introduced in 2017), antelopes especially impalas, klipspringer, bushbucks, waterbucks, topis, roan antelopes, Oribis, elands and duikers among other, zebras, sitatunga in the Papyrus swamp, diurnal and nocturnal primates for example Vervet monkeys, olive baboons, blue monkeys, bush babies, sported hyenas, side-striped jackals, genets, Serval vats and mongoose among others. With these interesting wildlife species. With these wildlife species, game drives are the most important activity conducted in this park. Game drives for 2-3 hours cost $40, half day self game drives cost $15 and full day self game drives cost $30 person in Akagera National Park.
Besides the wildlife species, over 525 recorded species of birds call Akagera National Park home. The birds exist in various ecosystems that characterize this park, for example there are some birds in the savanna, wetlands (like the shoebill stork). Some of the bird species in this Park include the rare shoebill stork, over 44 species of raptors, Glareola nordmanni (a Palearctic migrant), Red-faced barbet, Handsome Francolin, Rwenzori turaco, Rwenzori Batis, the exquisite papyrus Gonolek, Rwenzori Double-collared and Ring-necked francolin among others. Bird watching is therefore another important activity that takes place in this Park. Because of these interesting birds, Akagera National Park is one of Rwanda's Important Bird areas.
Due to the existence of the numerous lakes, fishing is undoubtedly one of the activities that take place in the Akagera National Park. Fishing is charged $20 per permit and is always conducted on the shores of Lake Shakani (for tilapia and catfish).The appearance of the hippos and the aquatic birds spice up your experience.
Boat rides are also important in this Park. Scheduled boat rides are always in the morning, afternoon and during sunset, and take place on Lake Ihema. While on this unforgettable boat ride, you will be able to spot some wildlife species like Hippos, elephants and buffaloes while they go to the lake to cool off and birds like the papyrus canary, Broad-tailed warbler and the shoebill stork among others. A morning boat ride costs $35, sunset boat ride costs $45 and tourists who prefer unscheduled private game drives pay $180 per person.
Cultural tours are unavoidable while at Akagera National Park. Several options exist for tourists to experience and they include the local beer and honey production, Arts and Crafts, Heritage (the culture of cattle practiced by the Rwandan locals) and Celebration (Food and festivities). All these tours provide a glimpse to the locals' ways of life. You will also get a chance to join them to milk the cows, prepare traditional meals and ne entertained in the traditional dances and songs.
Where to Stay While at Akagera National Park
Few but exquisite accommodation choices exist within this magnificent park. There are a few accommodation establishments in Akagera National Park and these include Akagera Game Lodge, Ruzizi Tented Lodge and Karenge Bush Camp. Outside the park, there is Dereva Lodge and a few campsites that include Mutumba Campsite, Shakani Campsite and Muyumba Campsite. Guests are charged $20 per person for camping.
How to Access Akagera National Park
This Park can be accessed by road, it is 135km/3 hours drive from Kigali. Tourists within Kibungo use only 1 hour to each the Park. There are two gates used to enter this Park and they include the main entrance at Kiyonza (south of the park, 500m from Akagera Game Lodge and the most preferred because it is near the Park headquarters). The second entrance is Kabarando gate.
Besides gorilla trekking conducted in Volcanoes National Park, tourists who visit Rwanda can also explore the savannah Akagera National Park to experience the wildlife and bird species that this country and National Park has to offer. With the numerous tourist activities in this Park, tourists will be able to attain a maximum satisfaction and memorable experience.