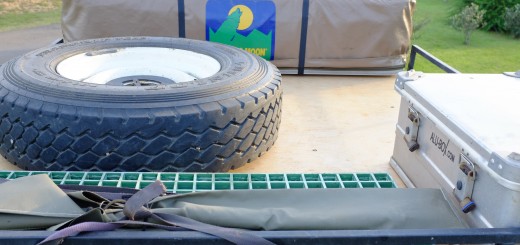 Before we left to start our overland journey, we needed to find a place to give Maggie a good mechanical tune-up and to replace some of her outdated equipment. After many years of travelling Africa, Maggie needed some basic work done to the differentials and suspension, among other things.
After installing a drawer system in Gaborone, we agreed that Botswana wasn't a good place to get this work done, for a number of reasons. First, there is a lack of 4×4 and Land Rover specialist mechanics, outside of the dealerships, which charge a hefty price tag. In addition, Land Rover parts are imported into Botswana from South Africa, where they are imported from the UK – which makes them seriously expensive. Finally, the exchange rate against the British Pound is much more favourable in South Africa and Namibia, which would potentially save us hundreds, if not thousands.
At first, I wanted to go to Namibia to get the work done by a garage I used previously, Auto Fliess. They specialised in modifying vehicles for overland expeditions. But unfortunately, we discovered that the owners had recently retired and closed the shop for good.
After researching garages in South Africa that specialise in Land Rover parts and repairs, the decision was made and off we went to British 4×4 in Pretoria.
Our experience with British 4×4
After contacting British 4×4 on the phone, we went in to the shop to meet Mari and Donavan. When we arrived, it was immediately clear that the garage is a busy place – with many Land Rover Defenders and Discoverys on the premises, waiting to be serviced in some way.
Donavan and Mari gave us great service – listening to what work we felt Maggie needed and also giving us recommendations for additional equipment. After booking Maggie in, the mechanics conducted a very thorough 126 point check. Once that has been carried out, we were given a list of recommended mechanical work and a quote for the additional modifications.
All in all, the work came to a rather hefty price tag. But ultimately we felt that it would be worth the investment, especially because British 4×4 was recommended to us for the quality of their work. I hadn't invested much in Maggie over the last few years, and since we plan to travel for a year we want to make sure we can make it all the way without too many problems!
In total, all of the work (mechanical and outfitting) took 4-5 weeks to complete.
Our new bedroom: the Howling Moon Stargazer
There was no question in our minds that we wanted a new roof top tent for Maggie. Maggie's previous roof tent, an Ezi Awn, was about 15 years old and had reached the end of its life. Eventually, holes had developed in the canvas, and the cover had worn away, which meant that water had gotten in the tent and caused a considerable amount of mould and rotting.
There are many companies to choose from when it comes to selecting a roof tent in South Africa.  Marilu and I had researched several different options. At first, we had flirted with getting an electric 'BunduTop' roof tent from Bundutec, but ultimately decided that it was too risky of a choice. If the electrics were to fail, then we might struggle opening or closing the tent or to find someplace along the way to get it repaired. The tent was also twice the price of most others on the market, and we were told that there was a 2 week waiting list for installation.
We also looked into options from Ezi Awn, as this tent had lasted a good 15 years and we knew the quality of the tents.
But, in the end, we were ultimately won over by the Howling Moon Stargazer Delux 1.4, for many reasons. Most importantly, the the tent has many window openings, including two on the roof, which gives us access to starry nights in the breezy, cool comfort of our bed. But also, we were impressed with the quality of its construction and with the innovative design of the tent itself.
Dual Battery System 
Replacing Maggie's dual battery system was important to us, because it allows us to run our Engel 40L Fridge in the back of Maggie and to charge our various devices, without draining Maggie's main battery.
British 4×4 installed a power inverter just behind the passenger seat. This allows us to charge laptops and other electronic devices while we are on the move.  So far we have found it very useful – although lesson learnt, we should have chose one with a plug socket that meets most of our needs.  The one we chose happens to have a European plug and so requires an adapter to be used every time!
Let there be light: our new spotlight bar
We decided to install a new spotlight bar for Maggie, as her currently headlights and spotlights are not very bright. The spotlight will help us on occasions when we need to drive at night. We have already tested this out and found it really useful when trying to find a camping spot in the dark!
Bodywork repair: Maggie gets a make over
Maggie's body work had been damaged from my previous overland journey while driving in Sierra Leone in 2010.  So we felt that  giving her a little facelift for her next journey was worth the money and effort.
Replacing the wooden board on the roof rack
The previous wooden board had been wearing away and had a number of cracks that were beginning to compromise its stability. With a roof top tent, we need to stand on the roof rack often. So, we decided to replace this, and to simplify what we stored on the roof. Now we keep just the roof tent, a spare wheel, a box with recovery gear (tow ropes, etc) and sand ladders. We are really happy with the refreshed look, which we think has removed a lot of excess weight from the top, making her a safer and more fuel-efficient drive.
New tyres: BF Goodrich All Terrains
We decided to replace our rather worn Dunlops with a new set of BF Goodrich All Terrain tyres.  They come at a hefty price, but we are hoping (with some luck) that we limit the amount of punctures we encounter over the next year. So far, we are really impressed with the quality of the tyre, especially when driving in rocky, sandy and muddy conditions!
Other modifications