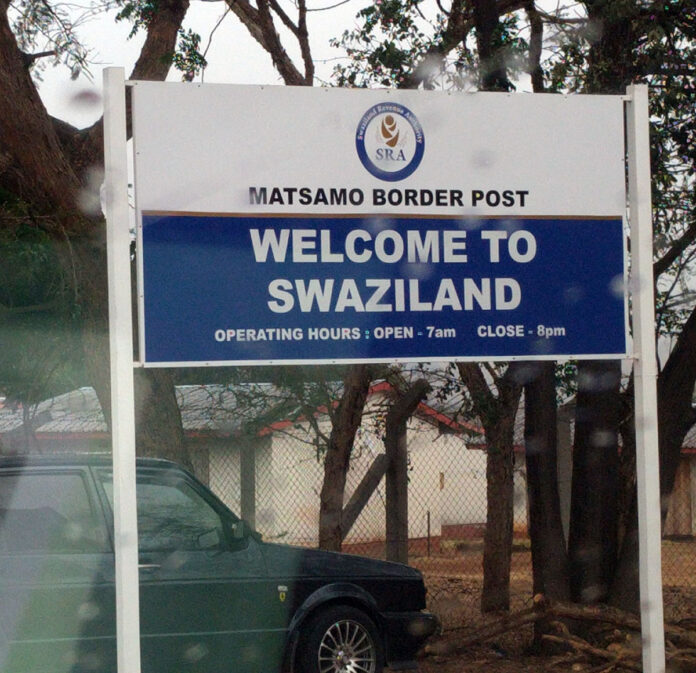 Some call Swaziland 'hassle-free Africa', and that's exactly what we experienced crossing the border into the country from South Africa. Minimal paperwork and no trouble whatsoever.
Which border to choose?
There are a number of overland border crossings between South Africa and Swaziland. Which one to choose will depend on where you're going and what time you'd like to cross.
In total, there are 11 overland border crossings to choose from (each marked on the map below). We chose two borders to cross:
Josefsdal / Bulembu on the way in, to take in the dramatic scenery of the Barberton pass and village of Bulembu; and
Lavumisa / Golela on the way out of Swaziland due to its proximity to the Elephant Coast – specifically, Kosi Bay.
Josefsdal / Bulembu
No queues here – this border was extremely small and quiet. Both the Swaziland and South African side appeared to have only a handful of staff, making for a quick and easy crossing. On the Swazi side, the immigration and customs officers work side-by-side, making payment of the temporary import fee as simple as taking two steps to the right, and two more out the door.
Lavumisa / Golela
This border is much bigger than Josefsdal, and slightly busier when we visited. But both the South African and Swazi sides were quick and efficient – we were in and out in under 15 minutes! But make sure to get your gate pass stamped by customs, we forgot this step on the Swazi side and had to go back in to get the stamp.
Crossing requirements
Besides the usual things – including a valid passport – not much documentation is required.
Most European and North American passport holders don't need a visa to enter, and only a E50 (R50) fee is required to temporarily import a vehicle. When we crossed, our UK passports were stamped for 30 days.
Although some reports indicate that tourists need a temporary import permit for personal belongings, and are required to fill out baggage declaration forms, this was not required of us.
The officials also weren't interested in whether we owned Maggie (who is registered in Botswana), although it's always a good idea to have ownership documents to hand. Third party insurance was also not required of us, although it is also a good idea to bring insurance documentation.
If you're in a rental, make sure you ask the company to write you a letter of permission to bring the vehicle across the border, as there is a possibility that officials will want to see it. And if you have a non-SACU registered vehicle, a carnet de passage is recommended.