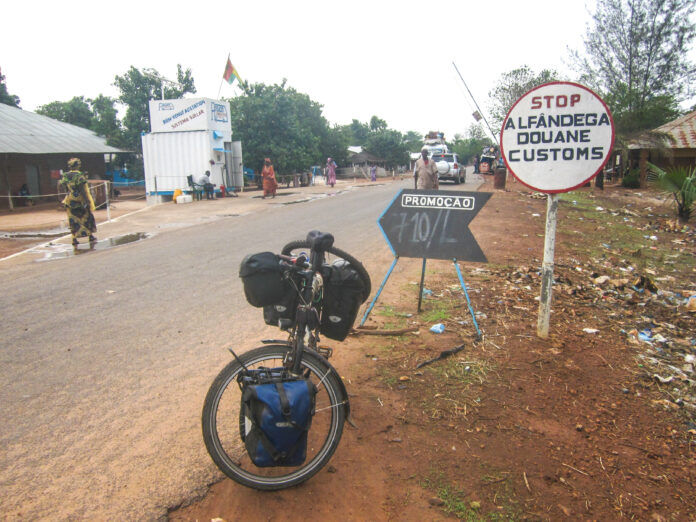 The road to Guinea Bissau
The day we left the park we decided to check out a border that was relatively close to a town called Kolda with Guinea Bissau, if the border was cool we could get our visa's there and go straight into Guinea Bissau.
Everything was going fine, we passed straight through the Senegal side but at the Guinea Bissau side the guy behind the visa control wanted in total 55,000 CFA (£80) from us so we could continue, he clearly was having a giraffe and would not budge on the price, we then bid him farewell and decided to get our visa's (£5 each) in Ziguinchor.
Ziguinchor
Ziguinchor is the city that we could get our visa's for Guinea Bissau rather than heading many more more km's to Dakar.  What is nice when driving through the more remoter parts of the country is that if you wave to someone you inevitably get a massive wave and a big smile back, it's addictive and Reka started getting into the swing of it also, by the end of the day, your arms are sore!
Reka decided to sit ontop of Maggie for a while to get a different perspective of the drive and because of this, we gave a guy a lift from one village to another, he told me he is a teacher in a nearby school and took us around his village a few km down the road, after we said goodbye to him we realised the road started to deteriorate, and it probably answered my question of why the roads were so quiet, basically Reka and I took turns to drive Maggie a distance of 100km and it took us around 4 hours!!!
When we arrived in Ziguinchor we immediately found where the embassy was, Reka managed to rant down a public phone to her bank HSBC that has literally not allowed her to take any money out from any ATM's since leaving Morocco (the bank of Noel has been busy) and when we met the consulate for Guniea Bissau he was friendly and told us all the countries he has travelled to and lived in and you could tell he was there to help and get things done quickly, within seconds we had the stamp in our passports and were ready for another country.
We headed to San Domingos the border to Guinea Bissau (30km from Ziguinchor) and within an hour of waiting we had bid farewell to Senegal.