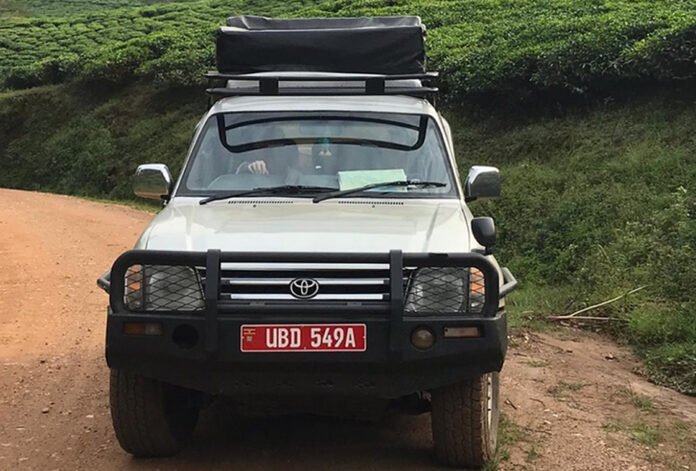 The land cruiser car rental category is the master of art with matters concerning safari adventures in Uganda and East African region at large. And the amazing news that these rental embraced custom of rooftop tent camping. Many car rental agencies in the country have customized the land cruiser rental for rooftop camping for travelers who wish to experience an outdoor night experience.
Renting a land cruiser 4×4 with a roof top tent: roof top tent camper has become so trending and admirable traveling trail by so many travelers. Enjoy the privacy, comfort, and confidence of driving throughout by renting a land cruiser 4×4, and experience a night in a style of a night jeer with the rooftop tent. Always new explorations are significantly exciting and empowering for both bachelors and advancing travelers.
If opting for a vacation in one of the African countries particularly Uganda. Should expect to cruise through the proving and tough terrain of the wildness. But having a 4×4 land cruiser, this is a hulk of all terrains in the country and the region at large as far as safaris are concerned. The land cruiser series customized with a rooftop tents for adventures can maneuver over the assumed of being rigid boulevards.
The land cruiser rental series customized with a rooftop tent
Various 4×4 land cruiser vehicles are available in Uganda for safaris which include; the Prado land cruiser TX, TZ, GX, VX and V8 and the safari land cruiser series 70, 76 and 79 (land cruiser hardtop and land cruiser extended). All these models are customized for rooftop tent camping and as well with a pop up to suggest a perfect wildlife especially on the African. Take one of the models can be possible for either a guided drive or a self-drive trip.
Renting a 4×4 land cruiser doesn't only leads you to unlimited cruising, rather growing wings and sleep in the air. It's so common for being a mind behind low budget excitements as well accommodating all classes of travelers.
Rooftop tent rental
The most recent tending way of experiencing a safari in Uganda. Most of the travelers beside several reasons have found it necessary to travel to Uganda but experience the rest of their night on their rental roofs. Imagine sleeping in the wild beside the lion roars, it looks terrifying, enjoying the melodies of bird whispers and waking under the arrays of the sunrise. A rooftop tent pack means having a tents installed on your car rental top with a mattress, sleeping bags, pillows, and bed sheets.
What comes with a 4×4 Land cruiser with rooftop tent?
However, when renting a 4×4 land cruiser with a rooftop tent it means coming all camping gears. These camping gears include; the roof trop tent, the flat board, sleeping bags, sheets and Blankets, a table, pair of chairs, jerricane, cooler box, electric fridge, cooking gas cylinder  and cookware, cooler and utility trap, camp furniture, hammock, lighting and first aid kit. And can even hire a cook, if at would wish to prepare you own meals.
Benefits of renting a 4×4  land cruiser with a rooftop tent?
Cost friendly
The land cruiser 4×4 rooftop tent choice is cheaper in comparison to other alternatives. One has only to ensure costs of vehicles and camping gears which is a dual score of transport and comfortable accommodation of camping at the top of the vehicle. Renting a land cruiser 4×4 rooftop tent can costs about $120, instead of renting a the vehicles and as well cost for the accommodation facilities more $100 dollars.
Perfect venture
Considering a night on the top of your land cruiser, is a venture which gives an excitement of a way from home. With no worry of ground insect bit, driving to any of the savannah parks in Uganda, there are designated camping sites in the middle of the wildness with the protection an armed ranger guide. Rooftop tent camping a nice and perfect wildness venture that rewards with perfect traveling memories.
Fulltime cruise
Having a 4×4 land cruiser, just think of the unlimited cruising, the land cruiser is proved to be Africa's maneuver that can traverse through all the terrain of the continent. All vehicles available for adventures are well serviced and prepared to ensure that travelers either on the guided or self-drive trip can drive without any limitation.
Time conscious
Having a vehicles which at the same time accommodation being sorted, it's a big deal which saves much of the time one would use to reverse for accommodation. As well the rooftop tent saves times where by one can have a night at place of convenience.