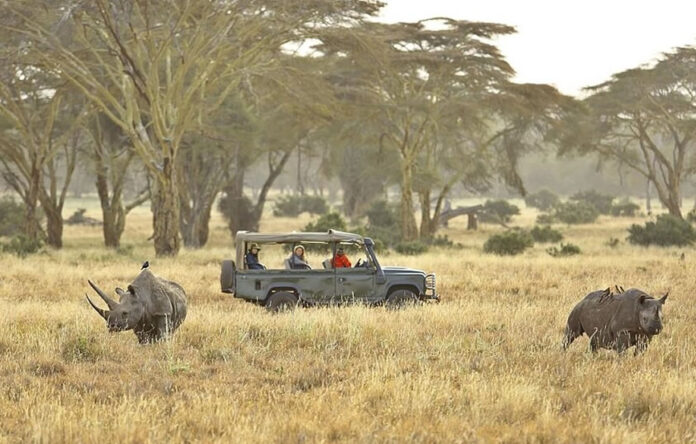 Travelers from all over the world search for reliable 4×4 wheel drive vehicles to take them through a memorable safari in Africa. With a SUV 4×4 wheel drive up high from the ground during road tripping in African country expect positive results. The vehicles are designed to maneuver the bumpy, dirt and dust roads during adventure without feeling much of the impact from the tarmac and gravel roads at tourist destinations. The biggest question for many that want to travel and uniquely explore tourist destination in Kenya is that which vehicle is suitable for self-drive?
I would recommend SUV vehicles for road adventures in Kenya. But remember SUV has two categories of vehicles which include 2WD and 4WD. Only hire a 4×4 wheel Drive vehicle that has the ability to maneuver the rugged terrains and pass through the off beaten tracks of Kenyan national parks. Hiring vehicles has been made easier because of the emerging car rental companies scattered in different parts such as towns, city and close to airports with a jungle passion and a big heart to let tourists fulfill their travel dreams in their cars. Anyone car hire a car in Kenya as long as you have the necessary requires need by the agency.
Requirement to hire SUV Vehicle
The easiest way to connect to tourist destination is through hired vehicles, from authentic car hire agencies that are in good mechanical condition. There are some requirements needed to be full filled by traveller before sitting behind the wheel of a SUV vehicle for a Safari.
Possessions of a driving permit /license
For any driver to operate on the roads of Africa or any other continent should have a valid driving license. This proves that you have the skills and been approved by law or state to drive. This will   show the car agency that you are an eligible person to hire from them, the license must be valid throughout the period of your safari.
Passport / national ID
For easy recognition and other security purposes, a traveller should present a copy of their national ID or passport to the car agency staff in charge of offering a vehicle. This is done before signing the companies' terms and conditions or agreement as the companies' policy. Remember the passport and national ID information should be similar to that on your driving permit.
Eligible Age 
Driving Age limit in Uganda is different from that of car rental agencies who extend car rental services to travelers in Uganda. A person is allowed to drive or possess a driving permit at the age above 18 years. Most car rental agencies have a fixed age limit and some consider age limit of 21 years to 60 years maximum. This will depend on the company, the companies' policy and on the other side young drivers are given extra surcharge but it varies on the age used.
Best   Suv   vehicles for safari
SUV vehicles can either be 2 wheel Drive or 4 wheel drive but what's  best to conquer the rugged terrains of Kenya is our monster good mechanical 4×4 wheel drive SUV vehicles from our fleet, Just name it we offer it at pocket friendly prices that you will only find at our agency.
Toyota land cruiser
You will never enter our fleet and do not find a Toyota land cruiser ,Trust me with this type SUV  vehicle expect to maximum fun and adventure because of its durability, reliability to perform during tough conditions. It is the most recommended car for travellers on luxury trips. Land cruiser is designed to handle tough terrains, gravel roads and muddy and swampy areas. Toyota land cruiser is customized to handle off Road adventures and spacious to accommodate travelers with their luggage.
They have a hard roof top designed for camping by those who dislike ground camping. Most land cruiser vehicles are under manual transmission with strong tyre threads for rough terrains, great shocks and suspension system for a remarkable ride in the world of nature. Land cruiser is every traveller's favorite machines because of its ability to offer adventurous overall experience from the rest of other SUV safari Vehicle.
Safari van
Safari vans are typically Toyota Hiace or mini vans customized for family or small group tours in Kenya. It is a 6-9 seater vehicle offering a comfortable ride. They are designed for game viewing with slide open windows and a pop up roof offering a platform to take a clear view of the park surrounding as well take nice shots for photographers. With a 4×4 wheel drive safari van, expect to explore and access most places that can be accessed by a land cruiser.
Open 4×4 side safari vehicles
This is Travellers favorites when it comes to game viewing activity which couldn't miss on bucket list. Open 4×4 side safari vehicles are found inside national parks and designed to provide an open view of the wilderness. What's good about this kind of vehicle is that travellers are granted off road game drives during private safari which you will not find with other safari vehicles. For Kenya safari destination I would recommend a 4×4 open side safari vehicle and get to interact with other wild creatures at close range. They are designed with a sun canopy for shelter and other jungle protection
Toyota Land Cruiser Prado
This is ranked as the oldest SUV vehicle designed to maneuver the rugged terrain roads including off beaten tracks. They have strong shocks and very powerful, comfortable and convenient to those that choose to hire it for a safari in the pride of Africa. Prado can both be TZ, TX and trust me those who get to use this suv vehicle will not prefer to use any other safari vehicle. They are offered for self-drive and those who want to travel in comfort can opt for a driver at an additional cost. Some are customized with a pop-up roof offering a better photography platform and a fascinating game view.
Car hire is affordable in African countries like Kenya and convenient to those planning on a safari to Kenya`s interesting places or other related travel purposes. Just click on our site for more inquiries or any booking to make use of our incredible professional high quantity services.