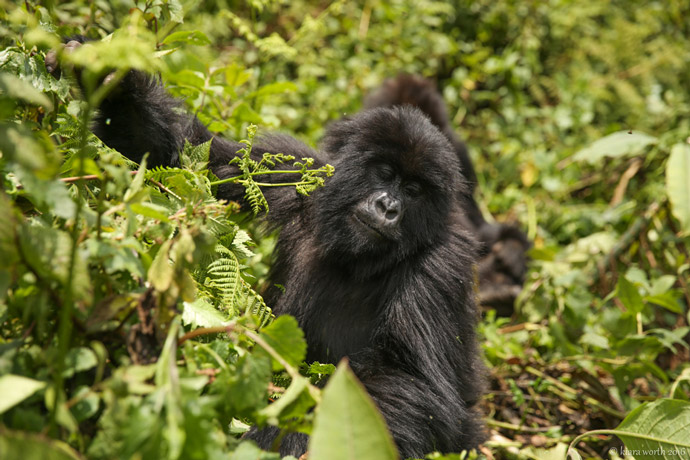 The Volcanoes National park is the prime destination in Rwanda because it is a home to the critically endangered mountain gorillas (Gorilla beringei beringei). This is the favorite destination for gorilla safari adventures in the world. This 160 square kilometers Park is located in North-eastern Rwanda, about 105 kilometers/2-3 hours drive west of Kigali.
The Volcanoes National Park was established in 1925 with an aim of conserving the critically endangered mountain gorillas that were facing extinction. This Park is rich with biological diversity because more than 70 mammal species and 180 bird species call the jungles of Volcanoes National park home; hence tourists will not only track gorillas but also enjoy other attractions.
Not only that, this Park is Part of the great Virunga Conservation Area and is a home to 5 volcanoes that form part of the Virunga Massif. Some of the Mammal species found here include Elephants, Buffaloes, the endangered Golden monkeys, Black-fronted duikers, Giant Forest hogs, spotted hyenas, Leopards, Bushbucks, Yellow-backed duikers and Bush pigs among others.
Some of the interesting activities that attract tourists to Volcanoes National Park include;
Gorilla tracking in Volcanoes National Park

Gorilla tracking is undoubtedly the main activity that takes place in Volcanoes National park. This Park is a home to over 300 of the world's remaining mountain gorillas and 10 habituated gorilla groups (including Susa A, Sabinyo, Bwenge, Karisimbi/Susa B, Umubano, Amahoro, Hirwa, Ugenda, Agashya family and Kwitonda) can be visited by tourists. With the maximum of 8 persons allowed to visit a gorilla family per day, only 80 permits are sold for Volcanoes National park. The activity of mountain gorilla trekking starts by reporting at the Kinigi Park Headquarters at 7am for pre-tracking briefing, then tracking begins at 8am. Gorilla permits for this Park cost $1500 for all tourists in all seasons.
Best time to visit Volcanoes National Park
Volcanoes National Park can be visited anytime of the year, but the most preferred time is the dry season from December to early March and June to early October. The trails are always muddy and slippery during the rainy season from late March to May and November which makes this season to be avoided by tourists, but is also ideal because there are fewer tourists hence you feel you have the entire Park to yourself. Not only that, most lodging facilities offer discounts during the wet season because it is also the low season.
Where to Stay in Volcanoes National Park
Some of the accommodation facilities in and around Volcanoes National park include Hotel La Palme, Kinigi Guesthouse, Virunga Lodge, Jack and Hannah Cottages, Da Vinci Gorilla Lodge, Sabinyo Silverback Lodge, Muhabura Hotel, Gorillas Volcanoes Hotel and Mountain Gorilla View Lodge among others.
How to Reach Volcanoes National Park
This Park is just 105 kilometers/2-3 hours drive from Kigali town. Most activities in this park start from the Kinigi Park Headquarters.  You can use public transport from Kigali town or Gisenyi to Kinigi.
In conclusion, due to the existence of rich biological diversity in Volcanoes National park including numerous mammal and bird species, this Park is a prime tourist destination and the reason why thousands of tourists flock Rwanda.