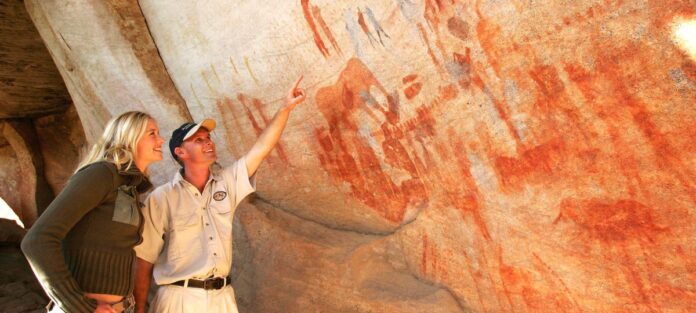 After visiting the Caprivi strip in Namibia, and crossing the border into Botswana via the Okavango panhandle, Maggie and the team headed for one of Botswana's less-visited but most awe-inspiring destinations: Tsodilo Hills.
Tsodilo Hills – Mountain of the Gods
In the dusty northwestern corner of Botswana, west of the Okavango panhandle, the Hills rises dramatically from the flat, bush landscape. Botswana's first World Heritage site, and with over 4,000 ancient paintings, Tsodilo is one of the best sites for viewing San rock art in Africa.
For the local San and Hambukushu communities, the Hills are the sacred dwellings of their ancestors. The site is not on the well-beaten tourist trail, but it definitely should be…
Arriving at Tsodilo, we paid a small park fee (P50). After proceeding through the main gate to the museum, we were greeted by friendly local guides ready to take us on walking tours for P120 for two people for the day. We were happy to pay the fee – not just because it's mandatory. Local guides are not hired by the National Museum (which runs the site) and work as freelancers in a part of Botswana where job opportunities are very scarce.
There are five walking routes to choose from – and you can read about the features of each route on arrival. We chose the oft-travelled Rhino route, to see some of the site's most famous rock paintings, including the often photographed Van der Post's Panel, whale and dancing penises (pictured below). Luckily, our guide took us on the trail in the opposite direction, to save us from a very steep climb in the heat!
The trail took us about 2 hours to complete, and was an amazing experience. Rock paintings are literally everywhere you look – and provide an amazing glimpse into the history of the region and of the oldest human beings on earth (the San).
The road to Tsodilo
To get to Tsodilo, follow the A35 south from Shakawe or north from Sehithwa until you reach a sign posted dirt track near the village of Ncamasere. Follow the dirt track until you reach sign posts for Tsodilo Hills – Mountain of the Gods. From the gate, the staff can provide directions to the museum, where the guided walks start.

Where to camp
There is a decently maintained campsite next to the museum building, with spacious plots, braai stands and ablution blocks. Although it is pricey (P130 per person per night), Botswana is a pricey place to camp.
Alternatively, there are some campsites along the Okavango river (on the panhandle side) along the A35, including Drotsky's Cabins and Campsites (P150 pp), Sepupa Swamp Stop (P150 pp), and Guma Lagoon Camp (P135 pp).