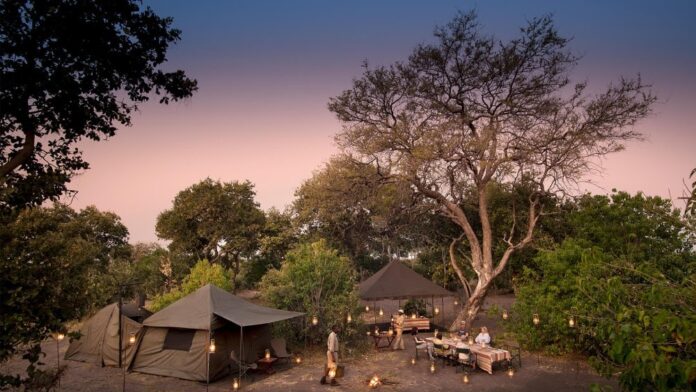 Thinking about a trip to the Okavango Delta? Check out these four reasonably priced, community campsites just outside Moremi Game Reserve.
Moving on from Tsodilo Hills, Maggie and the team decided to visit an old favourite and one of Botswana's most popular destinations: the Okavango Delta. The Delta, which became a UNESCO World Heritage Site in 2014, and is often featured in wildlife documentaries, is a large wetland area with one of the best concentrations of wildlife in Africa.
Campsites in the Okavango Delta
For most visitors, exploration of the Delta starts and ends with a journey to the Moremi Game Reserve. However, booking a campsite in Moremi can be a headache, with a number of private companies operating different campsites in the park, and spaces sometimes filling up a year in advance. Prices for camping have also gotten out of control, at up to US$50 per person per night including park fees (for foreigners).
So, on the search for a more affordable yet still amazing Delta experience, Noel and I found some off-the-beaten track, community-run alternatives, many of which surround the Moremi Game Reserve and offer just as much – if not better – game viewing. All four campsites listed below are also run or owned by the local community, meaning that your money is going more directly to the local people.
Khwai – Magotho Campsite
Get back to basics at the Magotho Campsite run by the Khwai Development Trust, on the northern border of Moremi Game Reserve (near the north gate). Although not nearly as luxurious as sites found inside Moremi, the profits from this campsite go more directly to community development projects.
The campsites are little more than wide open spaces along the Khwai river, shaded by large acacia trees, offering no ablutions or facilities. We loved the simplicity and, at times, dangerous proximity to wildlife, including large herds of elephants bathing in the river metres from your campsite! There are no fences here – an absolute paradise for wildlife lovers. Our favourite part of the experience was falling asleep in our roof tent to the sounds of elephants trumping, lions roaring and hippos grunting.
The Khwai Development Trust does not have a website or online booking system, but can be contacted at: +267 680 1211. Bookings must be made in advance before reaching the campsite, but we were able to book by visiting the office in Maun without any problems (located off the airport road, next to Helicopter Horizons and the Botswana Tourism office).
Cost: P300 (US$30) per person per night (for foreigners) and no park fees
GPS coordinates: -19.126823, 23.659348 (19°07'36.6″S 23°39'33.6″E)
Xanaksaie Campsite
After leaving Khwai through nearby Mbabe village, Maggie and the team stubbled upon Xanaksaie – a lovely and recently refurbished campsite on the Mbabe river. The campsite is owned by the local community, but run by the same 100% Batswana-owned company that owns Pelican Lodge in Nata.
There are six sites, each set apart from the other with fire pits and hot, outdoor showers! The beautiful river views from the flush toilets housed in reeds were our favourite part.
Although not as abundant in wildlife as Khwai, there are no fences here so they do get visits from big cats, hyenas and even wild dogs. Herds of elephants also roam through camp to shake the camel nut trees right next to vehicles! The game drives along the north edge of Moremi and the Khwai river also offer more (and free!) wildlife viewing.
We didn't book in advance, just paid on arrival. If anyone knows how to book this campsite, please send us a comment below and we will update!
Cost: P220 (US$22) per person per night and no park fees.
GPS coordinates: -19.202869, 23.982126 (19°12'10.3″S 23°58'55.6″E)
Dijara Campsite
Next to the Xanaksaie campsites, also on the banks of the Mbabe river, is the better-known and longer established Dijara Campsite. Dijara means 'many years' in the local language, which is about how long we felt we could stay here.
There are stunning river views from any of the 13 riverside campsites and plenty of friendly elephants sharing your camp. The ablutions here are more basic then Xanaksaie, and include bucket showers, although there are plans to update the site with donkey boilers.
This site can be booked in advance through Botswana Footprints in Maun.
Cost: P200 (US$20) per person per night and no park fees.
GPS coordinates: -19.189898, 23.981327 (19°11'23.6″S 23°58'52.8″E)
Kazikinni Camp
If the above camps sound too rough and ready, the Sankuyo Tshwaragano Management Trust's Kazikinni Camp is a more comfortable alternative.
About 65km north of Maun, on the road to Moremi, the Trust has developed an eco-friendly campsite (Kazikinni), traditional village (Shandereka Cultural Village) and lodge (Santawani Lodge). Profits from these undertakings are for the benefit of nearby Sankuyo village.
In easy distance to Moremi National Park (26km to the South Gate), the Trust offers an authentic and reasonably priced alternatives to privately-operated lodges and campsites. Visitors can also enjoy nature walks, game drives, mokoro trips, and cultural tours. There are also outdoor, solar-powered ablutions and a bar.
To book in advance, contact the sales and reservation office at +267 6800664 or santawanistmt@botsnet.bw.
Cost: P290 (US$29) per person per night and no park fees.
GPS coordinates: -19.590280, 23.802760 (19°35'25.0″S 2
3°48'09.9″E)