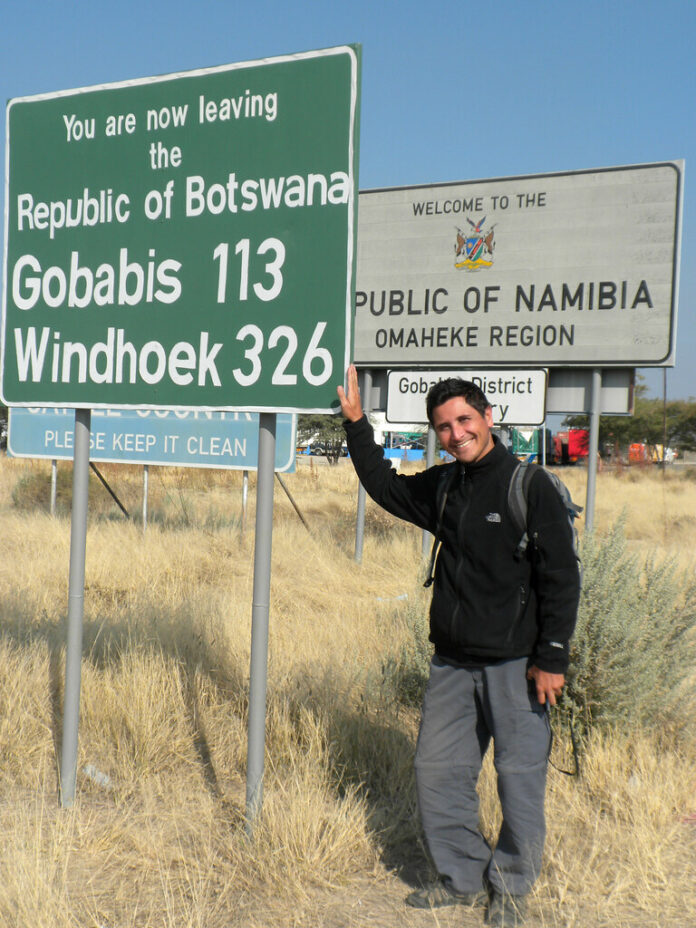 Like many overland border crossings in Southern Africa, crossing the border from Namibia to Botswana was no problem at all. Minimal hassle, and minimal paperwork or corruption.
Which border crossing to choose?
There are 4 overland border crossings between Namibia and Botswana. The most popular and well-used borders are Buitepos / Momuno Bridge on the trans-Kalahari highway, and Mohembo and Ngoma Bridge in the Caprivi strip. However, there is also a crossing at Dobe, near the Aha hills in Botswana and the Naye-Naye Concession in Namibia (see map below).
Which border to choose will depend on where you're going and what time you'd like to cross. We chose the Mohembo border crossing because we were headed to Shakawe and wanted to stop by the Tsodillo Hills, a UNESCO World Heritage Site famous for its ancient San rock art, on the way to Maun and the Okavango Delta.
Our experience at Mohembo was very smooth – the worst thing about the crossing was the 20km or so of horribly corrugated dirt road through the Mahango Game Reserve. But the officials were friendly and the process was very quick – we were in and out both sides in under 20 minutes!
On Noel's first journey, he crossed at Ngoma Bridge, which is a popular crossing for tourists heading to Botswana's Chobe National Park and Victoria Falls in Zimbabwe.
Border crossing requirements
Visa
Besides the usual things – including a valid passport – not much documentation is required. Most European and North American passport holders don't need a visa to enter Botswana, and can ask for a maximum of 90 days.
Make sure to have a Botswana address or the name of a lodge or campsite handy, because officials will ask where you are going to stay.
Crossing with a car
For those travelling overland, the most important thing when leaving Namibia is to hang onto the cross border permit (remember, that N$160 fee you paid to enter?). You need to hand in the permit to exit. Some officers will ask to see it at road blocks along the way – so keep it somewhere safe!
There should be no fee on the Botswana side, although sometimes they ask for a small fee (P140 or so) if it's the first time the car has ever entered Botswana.
The officials were not too interested in whether we owned Maggie (who is registered in Botswana). But it's always a good idea to have ownership documents to hand. Third party insurance was also not required of us, although it is also a good idea to bring insurance documentation.
If you're in a rental, make sure you ask the company to write a letter of permission to bring the vehicle across the border, as there is a possibility that officials will want to see it.
And if you have a non-SACU registered vehicle, a carnet de passage is recommended.