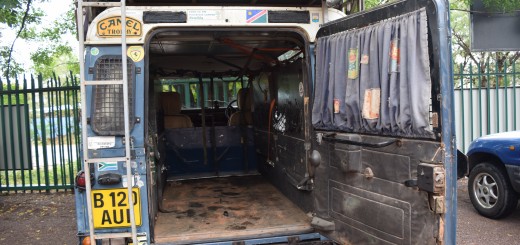 So, for the past three weeks, Marilu and I have been working on finding places to give Maggie a good mechanical tune-up, and also to add and replace some of the equipment (roof rack, roof tent, drawer, consoles, etc).
There are not many places to kit out your vehicle in Gaborone, Botswana, which is where we've been staying while Maggie gets a service and tune-up. This is probably because most overlanders take their vehicles to South Africa or Namibia to get all of the equipment fitted, as there are larger 4×4 communities in these countries.
Nevertheless, we managed to find a good company in Gabs that supplies a large range of options to pimp up your vehicle for an overland journey.
Maggie's New Drawers and Fridge!
On my previous trip from London to South Africa in 2010, one of the biggest headaches with the way Maggie was kitted out was the constant shuffling and rearranging of our ammo boxes of stuff. Whether it be toolboxes or first aid kits, Marilu and I wanted a more organised way of getting to essential items in an efficient manner.
At Hi Range Safari City, we purchased and got them to fit a four ammo box drawer system.  It was fitted in just a few hours and the before and after images show a big difference:
Before
After
We really can't wait to organise all of our tools and essentials in the new drawer system, which will be so much more safe and convenient than where they currently are – on the roof rack!
We also opted for the Engle 40L Fridge, with standard mounts.
Hi Range Safari City 
Hi Range Safari City is run by Brendon who was very knowledgeable and friendly to our needs as overlanders.  Their showroom is large and has a lot of gadgets and equipment to make your vehicle (both internally and externally) prepared for an enjoyable overlanding journey.
The showroom has items such as winches, canopies, roof tents, battery systems, drawers, cooking equipment, fridges, seat covers, to name but a handful of items that they stock. If they are out of stock, Brendon is able to order items through Howling Moon and FrontRunner and have them delivered from South Africa.
Pros and cons
For us, the advantage of choosing Hi Range Safari City was the location – we were in Gaborone for a number of weeks and were not able to leave until Maggie's mechanical work was finished. So we needed someplace local.
Another pro was that Brendon arranged for us to have our equipment installed super quickly – in just half a day! Excellent service.
The biggest disadvantage, however, was the price – the equipment probably would have cost us less in South Africa, which is where we are headed next to get the rest of the modifications done.
Another disadvantage was in the reclaiming of VAT – we were under the impression that this might be a painless process as tourists in Botswana. However, it was anything but! In our experiece, reclaiming VAT for large shopping purchases is much easier in South Africa.
How to find Hi Range Safari City
Address: Plot 22021 G West Industrial, Gaborone.
Phone: +267 3187003/+267 3121486
Website: www.hirangesafaricity.co.bw/