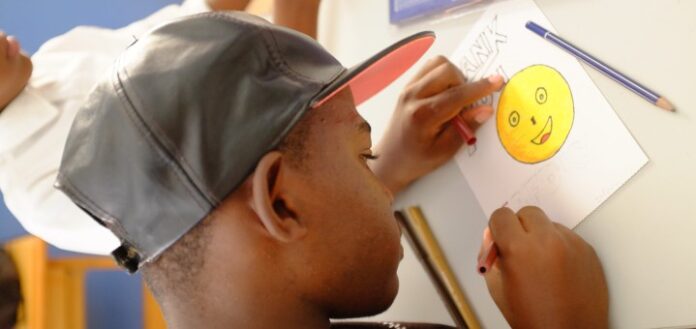 We are so happy to announce that the first $500 raised through Maggie in Africa's charity fundraising was donated to Stepping Stones International, a US-registered charity (501(c)(3)) working to empower vulnerable youth in Botswana.
Both Noel and I know Stepping Stones well, as we have previously worked and volunteered with their organisation – which, in our humble opinions, is one of the most effective and well-managed NGOs in the country!
We were privileged to spend a day at Stepping Stones with staff and with the 80 adolescents (ages 12-25) that are enrolled in their programme. And this is what we learned:
About Stepping Stones
2006
Stepping Stones International (SSI) was established in 2006 in Mochudi, Botswana to serve orphaned and vulnerable adolescents and their caregivers. Through school counsellors and the community, SSI identify orphaned youth who under-perform academically, live in abusive environments or have basic unmet needs.
Using a holistic programme model, which combines life skills, leadership, psychosocial support and community mobilisation, SSI enables youth to heal the scars of the past and reconnect with their lost childhood, while growing into self-sufficient young adults.
2008
Over the last ten years, SSI has been able to grow with the help of many donors and volunteers that have contributed in different ways.  In 2008, land was donated by the Catholic Church, building materials were provided by the United States Embassy, building plans donated by the Rotary Club of Botswana and First National Bank (FNB), SSI opened a bigger centre have been able to serve more youth in the local community and district.
Barclay's Bank also provided SSI with the funding to start a successful, income generation programme while FNB furnished the centre and provided a vehicle all of which helps extend the reach of their centre.
2011
In 2011, SSI launched the newly constructed Graff Leadership Centre. The Graff Leadership Centre was built with support from FACET Foundation, and leverages SSI's existing model of leadership, life skills, psychosocial support and community mobilisation to empower orphaned and vulnerable youth to become self-sufficient.
The partnership between FACET and Stepping Stones International demonstrates how a public-private partnership, hinging on collaboration and sharing a common goal, which can change lives.
Today
Today, SSI serves approximately 80 adolescents in the Mochudi community, and is now expanding their successful model into other areas of Botswana such as New Xade in the Kalahari, serving remote communities with various programmes that will no doubt benefit many vulnerable youth.
#First10Next10
To commemorate its 10th anniversary, SSI is launching a campaign entitled #First10Next10 to recognise and appreciate a decade of successful programmes and partnerships which have reached 7,000+ vulnerable youth nationwide.
The #First10Next10 campaign will include several public events as well as monthly activities throughout the year, while accompanying stories, photos, and art from youth, employees, and alumni will be shared on SSI's website and social media platforms
One of the first activities that SSI kicked off as part of this campaign was to write thank you cards to all the people/organisations that have helped SSI grow over the last ten years.
Marilu and Noel were able to join some of the SSI youth for a day and help them create these cards as seen in the photos below!
How you can help
Our donation to Stepping Stones was part of our effort to raise $30,000 to donate to at least one charity in each of the 15 countries we will be driving through on our journey across southern and eastern Africa.
You can support our fundraising efforts by donating to our campaign on GoFundMe. We only donate to carefully-selected, registered charities.
If you prefer to donate directly to Stepping Stones, contact them directly. I promise you will not hurt our feelings, but please do mention how that you heard of their organisation through Maggie in Africa
THANK YOU to all those who have donated so far – your generosity has made this possible!