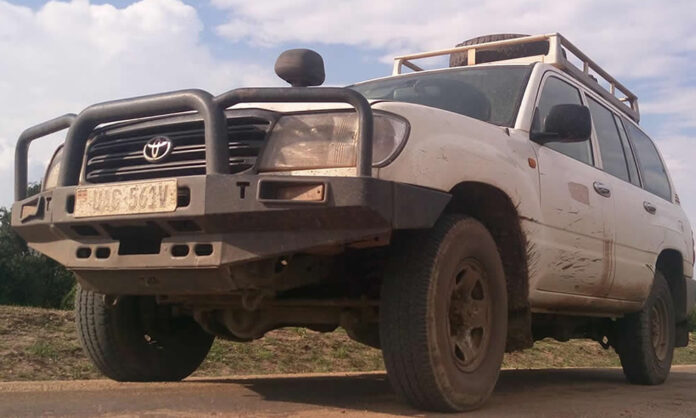 Considering a self-drive package for your holiday is more rewarding with freedom and flexibility than the full handled trips. Taking a self-drive in Uganda means you have full control of your safari and remains the boss over every decision. The self-drive is a favorite way of exploring the untamed and authentic nature that Winston Churchill described as the Pearl of Africa.
With that superb 4×4 car rental explore the beautiful national parks, hike to the snowcapped peaks, finds the primitive cultures of the region, and watch the highest number of bird species in Uganda, the rhythm of rolling landscapes, enjoy the ambiance of fluctuating foliage covers.
Such a backdrop of stunning encounters, a self-drive in Uganda is promisingly rewarding in a special aspect. Take the unhurried and relaxed drive freely turning and en-routing at your own choice of point. There are a lot of things to consider when taking a self-drive in Uganda. Would you consider these aspects of holiday? It's always a great deal on your own, and at your own pace.
Book a classic self-drive trip in Uganda
Booking a classic self-drive trip in Uganda means to book a fantastic and stronger 4×4 land cruiser. Don't let your own-self down using incompetent vehicles. The 4×4 vehicle rental in Uganda is another easy thing to do around. There is a variety of car rental to hire that just vary in rates and type of the vehicle used. For safari purposes, the rentals are 4×4 safari customized that are available all year around.
It's a bit competitive to hire a 4×4 safari vehicle, you need at least 3 month to confirm your reservation before vehicles are used up. Also the nature of landscape where to drive matters with the type of vehicle to use. When to drive in the scruffy roads of northeastern ends of Uganda (Karamoja sub-region) should always redirect to a robust (land cruiser TX, VX/V8, and the land cruiser 70 series).
As the trend is, book online, we don't expect you in our office. But promise the best services ever, this is what all car rental companies do. A classic safari vehicle is customized for various purposes, there is a safari customized with a rooftop for clearer game viewing. And rooftop tent camping customized rentals, this is perfect for further adventurous guests who wish slumber above roars and wakeup under the arrays of the sun raising.
How best to explore Uganda on a Self-drive
A self-drive being an amusement, then should consider how this amusement should be created. The joy is created and not given, there are things to meditate on doing which will make your classic self-drive in Uganda remarkable. We thought of these few outlines, which are yes tasted and approved to be the best ways of exploring the Pearl of Africa on a Self-drive.
Travel in a group
Traveling breaks and creates a crazy louder but silent moment off the usual daily undertakings. So having this moment alone it's a bit boring, what then to do? Create a group of two and more people to drive with on your self-drive. Happily, most of the travelers on a self-drive are wandering with their family. This is the joy which will never bore, collect and combine memories. Though this has other benefits like sharing costs, breaks boredom and convenience, traveling in a group is amazing.
Use more days
This time beat the requirements for the long term rental deal, okay it's a great deal again. However, this time consider the pleasure of exploring big and great. Take this amazing adventure through shadow between the African east and western rift valleys cruise yourself. Uganda is amazing country to drive in and you have to accept the truth of having enough time to ensure real explores. Enjoy, the wildlife, evergreen, beautiful nature, rolling and varying landscapes, and greater endemics within the jungle here like chimpanzees, gorilla, golden monkey, and big five among others. All these amazing encounters are only possible with enough time on a self-drive and should advisably take a more days on your self-drive trip to Uganda.
Variety of encounters
A basket of adventures! There are varieties of encounters on an adventure to Uganda. What is your interest? Is it trekking the world's only remaining gorillas, or trek the Africa's only fully habituated chimpanzees, enjoying the wild boat cruises, on taking a stunning and adventurous rewarding game drive. When taking a classic self-drive, make it special with a longer list of thing to encounter. Uganda alone boasts for quit many records among which include having the most challenging trekking trails in East Africa, accommodates half of the world's remaining mountain gorillas, hosts the Africa's largest fresh water lake, has the source of the world's longest river (River Nile), hosts the highest concentration of bird species than any other African country among other many considerations.
What are requirements of taking a self-drive in Uganda?
A self-drive is about booking your car and take your won drive and this has common do for travelers in foreign countries. Then, when driving in a foreign land and hiring a car there are few requirements. Must present your driving license, for foreign driver, is a good practice to have a valid international driving license which is allowed. Present your passport and your rental operator should always retain a copy of the driving license and passport before you're allowed to take the vehicle. And to drive in Uganda, one must only be 18 years and above.
Recommendable routes on a self-drive in Uganda
I wish to suggest you one of the best routes to consider when taking a self-drive safari in Uganda. Uganda is really amazing country to drive through, first and foremost, roads are not scary, and people are hospitable across the country and this leaves with few things to get scared about. Let's get to jazz about the route you can take and what to encounter on such routes.
Northeastern route
This is always the greatest among the all the routes on can take on a self-drive in Uganda. It's a rich en-route and greater unique destinations. Should you consider taking this route? Then, should take the eastern route from Kampala, to Jinja in eastern Uganda, find the source of the Nile River and do the African incredible rafting, bungee jumping. Hiking the world's largest caldera of the Elgon mountain and trek the3 phrase of Sipi falls. Can drive to this remotest Pian-Upe reserve for unique hunts of ostrich, cheaters, elands and many others mammals and cultural experiences of the Karamoja people. The northern route continues to Kidepo Valley National Park, the CNN reportedly called the park Africa's remotest park which even offers the widest view of landscape in the country. The turns to the northern section finding Gulu town to Murchison Falls National Park, and Ziwa Rhino Sanctuary and en-route to Kampala.
Northwestern Uganda
The Big Five and richest Wildlife rewarding route. The northern route majorly concentrates on Murchison Falls National Park, Kibale National Park and Queen Elizabeth National Park. There are more chances of finding the Big Five on this route with en-route to Ziwa Rhino Sanctuary to find the only rhinos in Uganda. Among the encounters are the Big Five, chimpanzees, tree climbing lions, trek Mt Rwenzeri here, and great landscape sceneries of the eastern rift valley. A self-drive trip on this route can take a minimum of 7 days and more according to a list of encounters and adventures to undertake.
Southwestern Route
The gorilla, chimpanzee and Big Five route, taking it will mark your best reference of adventure ever. The southwestern route starts from Kampala taking the southern route to Masaka Mbarara route. The major destinations are Lake Mburo National Park, Bwindi Impenetrable National Park, Lake Bunyonyi, Queen Elizabeth National Park and Kibale National Park.
Kampala and Kalangala Island
The leisure tours, a relaxed self-drive trip off the wild. Kampala is considered the genesis of all adventures in Uganda. Kampala is packed with amazing places of night life, traditional and cultural sites, historical sites, museums, and recreational sites among others. There are many of spots to drive like Mabamba birding site, Namugongo, Ngamba Chimpanzee Island, Buganda cultural sites, among others. Then, the other of the days you can consider sailing to Kalangala Island, the honeymoon island.