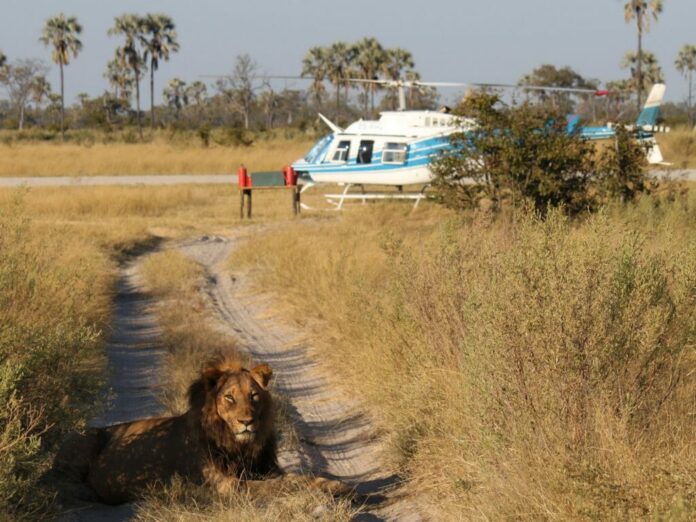 The Okavango Delta is one of the most amazing places to go on safari in Africa. The Delta is a large wetland area with UNESCO world heritage status. It's also one of the best concentrations of wildlife in Africa, and is often featured in wildlife documentaries.
Although we are avid overlanders, even we have to admit that the best way to experience the majestic Delta is by air. Because so much of the delta is covered by water, exploring large swaths of it by land is impossible.
So, in 2014, on a self-drive trip through Botswana with friends, we decided to leave Maggie and the dusty roads behind to go on a scenic helicopter safari over the Delta. To this day, it remains one of our most cherished memories from our time in Botswana – so we're sharing our experience and pictures here.
The Okavango Delta from the sky
Departing from the Maun airport, and hovering over villages, we passed the Buffalo fence which marks the beginning of the Delta. The coolest thing about our helicopter safari was seeing the criss-crossing animal tracks through the floodplains in between the bright green and blue waterways….
Choosing an operator
There are a number of operators offering helicopter and private charter flights over the Delta. We did some research beforehand, and decided to go with Maun-based Helicopter Horizons – primarily because their helicopters have no doors, so there is literally nothing between you and the marshy wildlife-filled wetlands below. Slightly scary, but mostly spectacular…
Our tips: book directly with the operator for the best rates. Many lodges in Maun provide this service, but the prices will be higher to accommodate their commission. Also, if you're visiting in the low season, it may be possible to negotiate a discount off the regular price. If our memory serves us correctly, we paid approx. US$150 per person for four people for a 30-45 minute flight (2014 price).
Where to camp
Camping in Maun is always difficult – no matter which site you choose, you will inevitably be affected by the all-night, booming house music of the backpackers.
Our favourite campsites include the Sedia Hotel (P70 / US$7 per person per night) due to its understated and relatively quiet riverside location. The Island Safari Lodge (P80 /US$8 per person per night) is another favourite, due to its riverside location and lovely bar area, although it can become too crowded at times…
Of course, the best place to camp is not in Maun at all, but in the Okavango Delta. Check out our post on awesome campsites in the Delta