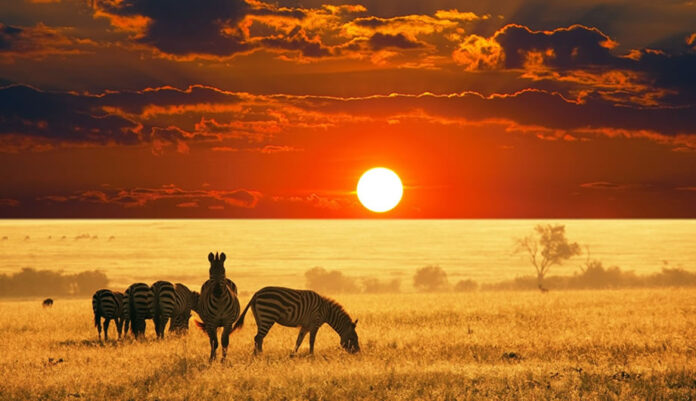 Africa is home to more than 800 mammals and over 10,000 bird species. This diversity is attributed to varied habitats as well as favorable climates. Travelers, who have been to Africa's best locations for wildlife and scenic landscapes, have had spectacular wildlife encounters.
Most African safari destinations like Uganda, Kenya, Tanzania, South Africa, Namibia, and Botswana offer amazing wildlife adventures which present photography opportunities for travelers. As you plan to visit Africa on a safari, be sure to see wildlife yourself and create a memorable experience.
Unlike zoos, you'll never have the same experience even if you visit only one national park or wildlife reserve. This is possible when you try out different activities based on what you enjoy most. So travelers are encouraged to visit more than 2 places and do as many activities as possible.
Coming face to face with the mountain gorillas
Widely rated as a life-changing wildlife experience, gorilla trekking trips take place in Bwindi impenetrable forest national park and Mgahinga gorilla national park in Uganda, volcanoes national park in Rwanda, and Virunga national park in the Democratic Republic of Congo. These are the only natural habitats left on earth that provide a home to less than 900 mountain gorillas. Hence gorilla trekking is on top of many African travelers' to-do lists.
To get up close and personal with mountain gorillas is the most popular trip on offer. It wouldn't be a complete safari to East Africa without trekking gorillas.
Mountain gorillas are the largest primates and are closely related to humans by 98% DNA shared. They live in families which are led by a mature silverback gorilla that can weigh up to 200 kilograms. With the help of trackers and guides, you get close to 7 meters to gentle giants. The most amazing moment comes to life watching gorillas exhibit human instincts. Playful gorillas will even brush past your feet; make vocalizations as well as groom each other just like humans.
Planning to visit Africa for a gorilla safari, you need to work on your fitness and bring the right clothing. On a gorilla trek, you hike deep into the middle of thick and steep forested mountains. Never buy a huge tripod, it is too big to use in tangled and thick vegetation.
2. Witnessing the Great Wildebeest Migration
The wildebeest migration is like no other natural wildlife movement you'll ever see on planet earth. Vast herds of about 1.5 million wildebeests together with thousands of zebras, eland, and Thompson gazelle move across Serengeti-Maasai-Mara ecosystems, making tough migrations thousands of miles every year.
These animals move to look for fresh pasture and water to their calving/ birthing grounds in southern Serengeti near Lake Victoria in Tanzania. Timing is never the same, so please contact your tour operator in advance.
The best time to see wildebeest giving birth is between January and March. Predators such as lions, cheetahs, and hyena become active to feast on their easy prey. Between April, May to June, the migration moves central Serengeti to cross the Grummeti river. July to October, animals cross Mara river to Maasai-Mara wildlife reserve and November to December cross back to Serengeti. To witness all these, you need to do 12 days of extensive game safari.
Visitors have the opportunity to see the wildebeest movements.  Mobile camps which follow the animals offer inclusive accommodation packages. Balloon safaris and game drives also offer the best sightings of wildebeest.
It is a moment of truth as the animals have to cross the crocodile-infested Mara and Grummet Rivers to and from the Serengeti-Mara ecosystems. Many of the animals drown or get injured thereby becoming easy prey.
3. Seeing the big five African animals
The big five African mammals which include lion, leopard, elephant, buffalo, and Rhino are the most sought-after animals by travelers. If you want to see these animals, plan your safari to visit Africa during the dry seasons. Consult your operator for safari updates when wildlife is at its peak.
During that time, wildlife congregates around waterholes and predators are actively hunting. And also, it's the time when young ones are being nurtured which are usually born towards the beginning of the dry seasons.
To be on a long day game drive safari amidst herds of elephants or witnessing a lion bringing down a mature buffalo is a truly amazing safari experience.
The most frequented safari destinations for amazing big five experiences are Kenya, Tanzania, South Africa, Namibia, Botswana, and Uganda. These countries can be visited all year round.
4. Tracking Rhinos on foot
Viewing wildlife is mostly conducted in safari vehicles. This is especially in places with large numbers of predators such as lions, hyenas, hunting dogs, and tourists' safety is paramount.
While on a safari, you want to get off your vehicle and walk on foot when game viewing. It is possible when you plan a trip to Africa.
Rhinos are critically endangered due to poaching for their horns. And are on the verge of extinction countries faced with conflicts such as South Sudan and DRC. Few places in Africa have managed to conserve rhinos and these animals are highly protected by armed rangers. There are two species, the black rhino and the white rhino which is higher in number than its counterpart.
Tourism has played a major role in the conservation of rhinos. In countries where Rhinos had become extinct have highly invested in captive breeding of rhinos. Thus travelers are encouraged to visit some of the places with rhinos.
Uganda, the pearl of Africa, is one of the few places where tourists can track white rhinos on foot at Ziwa rhino sanctuary. Kenya has a high number of Rhino conservancies and both species can be seen. Other countries with high populations of rhinos include Tanzania, Namibia, Botswana, and South Africa. In these countries, rhinos can be seen roaming free in wildlife parks and reserves.