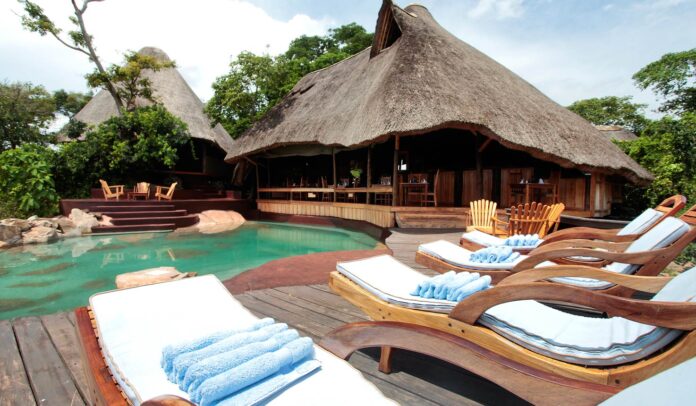 Weddings are a once in a lifetime event/ experience. This makes them deserving of the best there is in all spheres, inclusive of venues for reception and accommodation. Meet some of the A-list wedding destinations around Uganda with views that are worth dying for. Destinations in this context is mostly in reference to Safari Lodges in "Must Visit Attractions".
Wild Waters Resort-Jinja(Source of the Nile)
One of the major reasons why people travel is to free their mind of stress, and this place delivers at every level in this regard thanks to its( views). It is hard to trade for anything under the sun. I am talking about three things. 1. Views of the source of the world's longest river. 2. Views of Africa's biggest freshwater lake, Victoria. 3. Views of one of Uganda's oldest and most welcoming kingdoms, Busoga. The lodge sits at the spot where John Speke stood in August 1858 before declaring Jinja as the source of the Nile. According to history. At the time, the area was still in the wildest state and water used to jet off the ground like a geyser, before starting 6,670 km kilometer journey to the Mediterranean sea. Sadly, the construction of Owen falls dam few kilometers to its downstream has now submerged the river. As such, you can no longer feel its powerfulness until you take a boat ride over its outlet. If you are not that daring though, you can just sit back at the lodge and relax as the Nile's breeze fills you with life.
Planing Basics
This lodge boasts of a garden and spacious restaurant, both of which double as venues for wedding receptions. In can host up to 400 people. On the part of accommodation, it has four self contained cottages.
Rates: Full board rate for double occupancy is $148 and single occupancy is $128. Additional accommodation can be in Jinja town, roughly 20 minutes drive from this lodge. For details, here is the lodge's website
                        Mweya Safari Lodge-Queen Elizabeth National Park
If you desire to explore all of Uganda's majors parks but can't do so either due to limited time or financial setbacks, concentrate on QUEEN ELIZABETH National Park. A visit here is as good as a tour through all the other parks. It features an impressive collection of the unique sites and sounds that the other parks have to offer. Scenic crater lakes, gorges, endless Savannah expanses, tropical forests in their secondary stages, countless number of bird species, rich concentration of the big 5(exclusive of rhinos)…the list is endless. That is why it is called a Queen, and one of the best vantage points to behold all its beauty is Mweya, a small peninsular atop which Mweya Safari Lodge sits. The luxurious lodge which comes across as one of Uganda's oldest and overlooks Kazinga Channel; one of the most dramatic parts of the park to watch wildlife as they go against all odds to stay alive.
Captions: Above; a honeymooner marvels at Kazinga Channel from Mweya Lodge. Below; Some of the wildlife you can catch up with during your visit to Queen Elizabeth N/P, the home of Mweya Lodge.
Planing Basics
Regardless of whether you would like to have your wedding reception outdoor or indoors without missing out of scenic views, this lodge will move you. In total, its receptions can accommodate 150 guests. Mweya Safari Lodge has a total of 57 rooms (including 4 Luxury Safari tents, 1 Presidential cottage, 1 Queens Cottage, 2 Family Cottages and 49 rooms that are both deluxe and standards) Average bed capacity is about 118 guests based on room sharing basis. Average Rate per person is normally $165 per person for a Single Room and $220 for a Double Room. Additional accommodation can be found surrounding lodges or in Kasese. For details, here is the lodge's website
Nile Safari Lodge-Murchison Falls National Park
By the time CNN ranked a destination among its top 10, you know it is worth a five star recommendation. If CNN came looking for Safari Lodges in East Africa with the most remarkable views, I am sure Nile Safari Lodge would get ranked among the Top 10. It's wedding receptions offer wide views to some of the most vibrant stretches of River Nile. Stretches with powerful rapids. Stretches where some of the most sought animals in Murchison Falls National Park queue up to quench their thirst (like lions and giraffes).  Stretches where birds with bright plumage hang out and sing sweetly (like the African Fish eagle). Ooh Nile, you surely know how to impress without trying so hard!!
Caption for pictures. Above; A couple taking in views of River Nile from the lodge. Below; Guests mingling at camp fire.
Planing Basics
Thinking of hosting your reception or after party by the camp fire? Nile Safari Lodge is happy to make your dream come true. It's reception arena can comfortably accommodate 200 people.
Rates for Non Residents is $300 in High Season and $250 in low peak for full board experiences.
The lodge has 10 cottages, with a bed capacity is 20  people(sharing). Additional accommodation can be found surrounding lodges or in Masindi. For details, here is the lodge's website
Kyaninga Lodge-Fort Portal
Caption for picture below: Aerial view of Kyaninga lodge and its sorrounding.
You probably don't believe in love at first sight, but i can bet that will start to change the minute you set foot the Kyaninga Lodge. It has views of Mountain Rwenzori you'll instantly fall in love with. However, it's claim to fame are views of Kyaninga Crater, a breathtaking lake with crystal clear water.
When I last visited this place in July this year, I opened my mouth to acknowledge it's visual endowments, only for words to disappear. I guess it was because because words can't describe it well. For that, I'll just let the pictures do the talking.
Captions: Picture in second paragraph (before above pictures); A couple out for a photo shoot by Kyaninga crater lake. Above: Left; A cloud of dew hovers over Kyaninga crater. Left; A wide shot of Kyaninga lodge and its views of Mountain Rwenzori's rangers.
Planing Basics
Kyaninga has a ball room that can accommodate 250 people. It has nine exclusive cottages made from hand carved logs. Its total bed capacity is 25.
Rates. Additional accommodation can be found in Fort Portal. For details about rates, please visit the lodge's website
Sheraton Kampala
Caption for picture below: Aerial view of Kampala's administrative area as seen from Sheraton's rooftop.
I am not so sure whether Sheraton is a five star hotel or not, however, I now know for fact that it has a five star view of our homely city. Atop the roof top of this luxurious hotel, one gets to see the landmarks of Kampala with utter clarity. Whether you desire to see iconic monuments like the Independence monument or piano shaped buildings like National Theater, Sheraton delivers at every level. You also get to see how many people and automobiles are on every street. It is until you have experienced its panoramic view that you'll appreciate how sprawling Kampala is. It portrays Kampala as a fast rising cosmopolitan hub in Africa.
The bonus with Sheraton is that it is so close to the heart of Kampala yet so detached from its noise and stress. Enough said, #YouShouldBeHere!!
Planing Basics
Sheraton has over 100 rooms inclusive of club rooms, executive rooms, delux diplomatic suites, junior suites and presidential suites. It is a fully fledged hotel with gardens and ball rooms. It can host six different wedding receptions at ago.
Rates: For details, here is the Hotel's website
Chameleon Hill lodge-Kisoro District(within easy reach from Bwindi and Mghahinga N/P)
Caption for picture below: Lake Mutanda and Mgahinga National Park as taken from the locality why the lodge is found.
Every year, over 5,000 people from different corners of the earth travel to Uganda to spend at least one day in this lodge. One of the key reasons is it's views. For almost every turn, there is something astonishing. This includes views of Virunga-Africa's oldest Park, as found in Congo and, Uganda's smallest, Mghahinga National Park. You also get to feel the relaxing breeze of Lake Mutanda, one of Uganda's most scenic crater lakes. If you love swimming, don't hesitate to take a dive in it. It is free of Bilharzia.The lodge is sold out for much of the year, it's that good.
In my opinion, Chameleon is the most colorful lodge within easy reach from both Mghahinga National Park and Bwindi Impenetrable National Park, another gorilla park in Western Uganda. The decor and architectural style of it's chalets are themed along a unique Euro-African style.
Planing Basics
The wedding reception arena of the lodge is indoors and boasts of a cozy fireplace. It is suitable for small weddings and can accommodate 30 people.
The lodge has five chalets with twin beds and five with double beds.
Rates: Double/Twin rooms cost $ 250 in high peak seasons and $220 in low seasons. On the other hand, the single rooms cost $350 in high seasons and $320 in low seasons. Additional accommodation can be found in Kisoro town. For details, here is the lodge's website
Arcadia cottages–Lake Bunyonyi
He/She has probably ever sworn to you that he/she loves you more than anything in the world. I (am) don't have any magical powers, but I can bet he told you that before beholding the view of Bunyonyi (Africa's second deepest lake) and it's scenic islands, from Arcadia cottage. It sits at the highest hill among the many surrounding the Lake Bunyonyi in Kabale District. Even better, the road leading to it is in shape for much of the year. As such, you don't need a four wheel drive to be able to get there. One of the other reasons why I am delighted to recommend it is that it is situated in a tranquil and harmonious environment.
Planing Basics
Arcadia boasts of both indoor and outdoor arenas for wedding receptions. In total, can accommodate 300 guests. On the other hand, it has 35 rooms with a bed capacity of 70 occupants.
Rates: Single, double, twin, family, triple rooms cost $170, $210, $210,$420 and $280 respectively. The rates are inclusive of VAT. Additional accommodation can be found in Kabale town.For details, here is the lodge's website .
Rwakobo Rock lodge(Pictures by Emily Ward)
When humans are overwhelmed by something exceptionally good/extra ordinary, two things could happen.1. Their jaws could drop in awe, probably in disbelief. 2.Their hands could instantly reach out for their cameras/phones to capture the moment. Whenever I visit this family run Eco-friendly lodge, I lose count of the number of people who do both, probably because I equally get carried away by its views. I am talking about unobstructed views  of a majestic Lake Mburo National Park and its healthy concentration of herbivores, especially zebras, toppi, buffaloes, warthogs, impalas, bush-bucks….the list goes on. What more could one ask for?
Planing Basics
Rwakobo's reception can accommodate 70 guests. It has eighteen units (9 cottages, 5 rooms, a 2 bedroom house and 3 safari tents) with a bed capacity of 45 guests. Additional accommodation can be found at surrounding lodges in the park. For inquiries about rates, please visit https://www.rwakoborock.com/
Apoka Safari Lodge-Kidepo National Park
God didn't rush when it came to creating views for the massive rock atop which this lodge sits. He also took things nice and slow, offering attention to detail when creating the different features around it, the valleys, the mountains and the open savannah. The result of this dedication is an elevation that offers an electrifying view. Regardless of the time you visit this lodge, you are almost guaranteed of seeing all the cats to which Kidepo National Park is home; lions, leopards, cheetahs…. This is partly because they have all species of foods a predator can ever dream of. Over 100 kobs, 200 toppi…..
Kidepo is found at within walking distance from Uganda's borders with Kenya and Sudan. The park prides its self in having the biggest population of the buffaloes in East Africa, over 10,000. Watching them traffic from one side of the park to the other is like watching a migration of sorts. Full story coming up in the January-February edition of this blog.
Planing Basics
Apoka can comfortable accommodate 40 guests. It has 10 spacious rooms/cottages. Total bed capacity is 25.
Rates. Twin rooms; $585 and $380 per person in high peak season(full board).
Single rooms;$760 and $495 per person in high peak season and low peak season respectively. Additional accommodation can be found surrounding lodges. For details, here is the lodge's website
Kibale Primate lodge-Kibale National Park
If wishes were horses, I would stay at this lodge forever, partly for its views. I have been here over 10 times and still not had enough of it, probably because it is its own league as it is a forest park. I mean, if there's anything forest parks are known for, it is how annoyingly difficult it is to see wildlife in them. This has a lot to do with the fact that they are full of gigantic trees and vegetation that obstruct views. Thanks to this lodge's location in the middle of the forest, the case here is different. It is found in what I could describe as a wildlife corridor, along which wildlife pass as they browse through the park in search for food. Among many, these include elephants, buffaloes, forest antelopes. The lodge also boasts of a tree house from which one can catch sight of chimpanzees and monkeys as they go about their usual business.
Planing Basics
Primate lodge has nine spacious and en-suite Luxury Cottages. It's total bed capacity is 22. Its has three receptions, one at the dining room, the other at a that shelter designed for meditation and the third by the camp fire ground. In total, these can host roughly 80 guests. Additional accommodation can be found in Fort Portal.
Rates: For details about primates rates, visit ugandalodges.com