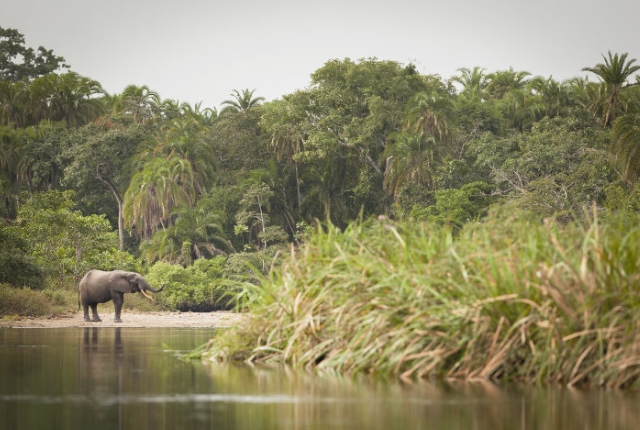 Lefini Reserve
After driving through Gambona then Ngo the villages started to become more frequent and we had seen on the map that there was a large reserve called Lefini but without any info as to what was in the reserve we drove until we found the entrance, this wasn't easy as many people directed us to several places but no one knew exactly where the main entrance was.
Around Etsouali we saw a sign that basically said Gorillas this way (finger pointing to the bush).
That was enough to be curious and check out the path, it was off road and getting late so hoped that the road was ok to either turn around if it led no where or reached somewhere that we could camp.
After 10km we reached a small village and a few locals pointed us to a place that was a small camp with a tented area, as soon as we reached a guy came running over to us and started explaining that we should book this place through a tourist agency somewhere in Brazzaville, I tried to explain in my fantastic French that we had come from the north and would be impossible to go there first and then return, he made a few phone calls and then agreed that we could camp here this evening and then go to see some gorilla's somewhere that would be signposted into the reserve.
The cost of entry was 30,000 CFA (£36) and then we would have to pay someone else an amount that we thought would be 10-20,000 CFA to be guided somewhere in the reserve but it wasn't that clear due to the language barrier, it was worth a punt as I have read that gorilla permits now start around $6-800 depending on the country you are in.
It had rained quite heavily that evening but stopped by the time we had setoff, our guide (cannot remember his name) took us to a spot where we had a magnificent view of the reserve, it was a great spot if you have a head for heights.
As there wasn't much information we were left to drive around this large reserve unguided which was nice but also slightly tricky as to know where the roads actually started and ended as sometimes you would see several tracks leading to many places. Eventually we reached a camp whereby we could leave Maggie parked up and enter an area where we were told there were Gorillas.
Aspinall Foundation Iboubikro site
It was here that we met some lovely staff that we're able to explain to us that the foundation has been setup here for the protection of gorillas as well as reintroduce those that had been captured for bushmeat but were rescued.
To see one of the few Gorillas that were in the reserve would mean some serious communication with some village chiefs and to be able to organize a pirogue and a guide all of which would cost a lot of money as well as the availability of being able to do this he next day would be difficult with no guarantee of being able to see any gorillas.
With that in mind we spend a couple of hours talking to the staff who were very passionate and informative about the gorillas here and we were able to see a group of gorilla infants that were being looked after close to this site before they would be released after reaching a few years old in the correct location.
Initially I was disappointed as it sounded like a show to go and see the baby gorillas being fed but I was proven wrong when we saw them, their behavioural attributes that they showed was absolutely stunning, an older female (1 1/2 years old) was curious to see both Reka and a little closer so she left the others and climbed onto a large tree for a better look, the others were more sensitive to being near each other and a young male (1 year old) began to get agitated that one of the females had left his sight and he began to get very aggressive and pond his little chest and whack the floor in a way to call her back to him, amazing for a gorilla who has had no interaction with an older male before. I won't go on about it but it was a special thing to see.
On the way out of the reserve we went to Lac Bleu a natural lake in the reserve and it was a nice place to go and dip your feet in but was scorching hot, oh and on the way there on some very steep sandy roads we ended up taking the wrong road, got stuck but with the help of some jigging in low range was able to get out of the situation and carry on the journey!