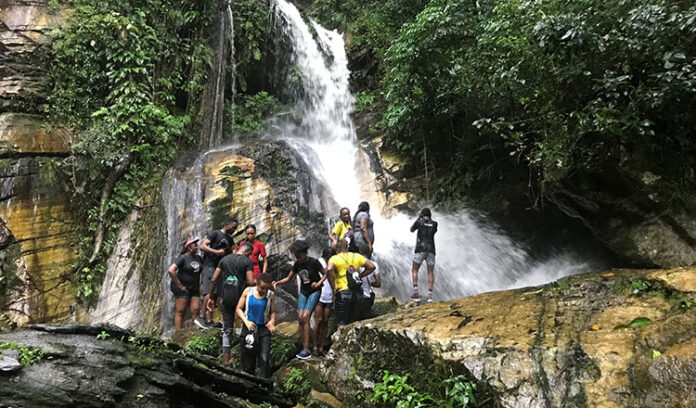 The Younes Family
Maggie was in need of a mechanic as we had a broken bearing which needed emergency treatment.
The night before we found a cheap place to stay in Abuja (Power Mike Motel, Wuse, Abuja) in fact Reka managed to wangle us camping in their car park for free.
Over a few drinks that night we met Ik, Charles & Emmanuel who told us that there is one well known recognised mechanic near the area Wuse 2 (address below).
The next morning we eventually found the garage (there are no signs outside) and saw dozens upon dozens of vehicles inside the compound that formed the garage, always a good sign that business is good here but the downside being it could take several days before Maggie the landy was looked at.
Reka went to meet the owner and within 5 minutes both she and the owner Solomon came to see Maggie and myself.  He told us that when there was a free moment that day he and one of his mechanics would investigate the problem.
In the meantime we met Solomon's son George who also works with his father and for the next few hours in the scorching sun chatted to both of them about their business and Abuja and life.  Solomon seemed an extremely busy man, car's were queuing up outside to be seen by his mechanics, he has a number of contracts with the various embassy vehicles that are in Abuja and has all the kit you can think of to ensure he never has to go anywhere else to perform any kind of diagnostic on any car/truck you can name.
When Solomon got an opportunity to look at Maggie he quickly checked the Hub and showed us that the disc surrounding the hub was damaged and it would either need to be replaced completely or the disc goes through a machine that smoothens the surface.  It didn't meant too much to me but Solomon was being open as to what our options were.  He said that he would check at this home as he has a discovery hub that could be used as a like for like replacement if it fits correctly.
George in the meantime wanted to take us out for a drink but as it was getting dark we were worried that we hadn't found any accommodation by then but he had asked one of his mechanics to go in search of a hotel for us that was reasonable in price (Nice!).
George was easy to get along with, amazingly he is only 20 years but has a very mature head on him (although he loves to party!), he told us about some Belgium bikers he met last year doing a similar trip to what we are doing and I could tell he at some point will no doubt do his own trip when he is ready.  After some beers and a spicy dish of cow shins (yes..cow shins!), George took us to meet his family as Solomon had invited Reka and I to have some drinks at his house.
Straight away we were made to feel right at home and memories of the Santos family in Guinea Bissau came flooding back.  Over the next few hours sitting outside their beautiful family home we had some great conversation and it was clear that this was a lovely family where everyone was strong and independent but everyone looked out for each other.
Solomon had left Lebanon during the early years of the civil war and after a number of years working in Nigeria on various engineering and construction projects had setup his own Mechanics in the newly created city of Abuja after moving his family from Lagos (apologies Solomon if I have got any of this wrong).  Jo was lovely towards Reka and I, and asked us if we would like to stay with her and her family while the vehicle was getting fixed, there was no hesitation and for the next 4-5 days we were part of the Younes family!
It was a great time that we both had with the Younes Family, Solomon I hope you don't mind me saying but you are crazy but have the heart of solid gold, I would like to thank yourself and Jo for making us feel like being at home for the time we spent together and our endless hunt for that 'Cold' beer.  You have a wonderful family and it was great to see that, like I said, it is hard to repay your generosity and what you did for us but if there is anything I can do in the future, please just contact me.  Maggie the Landrover is driving perfectly again thanks to the work you did.
For any Over Landers in Abuja that need some assistance, Solomon's garage is found at the following address:
Hidson Engineering Company, WUSE 2, Abuja (Near Bannex Plaza)