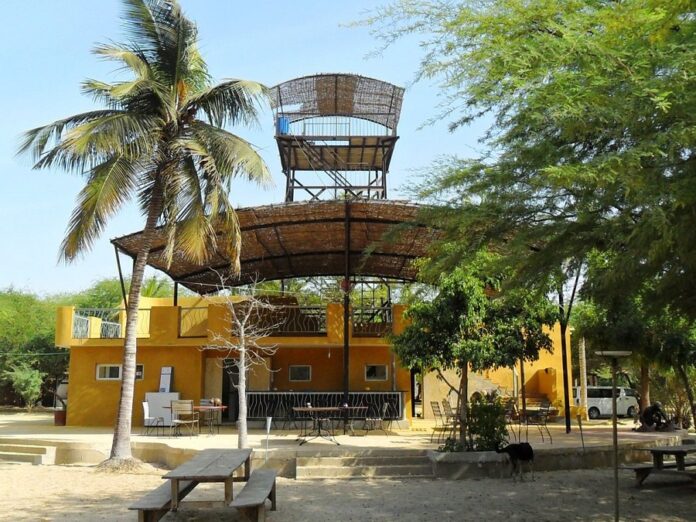 Crossing the border (from Mauritania)
After getting through the border a small distance later you are driving through narrower Senegalese roads, people stop and stare at your vehicle as you drive through, some open-mouthed, some wave, and others getting on with their own business.
Zebra Bar
We had been told by many people that the first place to check out is the Zebra Bar, I was a bit sceptical by the fact that everyone has said only good things about this place, I had visions of it being a touristic nightmare, blasting techno music..I was very wrong!
The camp sits about 20km outside the closest city St Louis. We arrived in the dark to the camp and it was difficult to make out what the place actually looked like, but what was clear was that the area to park up and find your own space was massive and felt very chilled. Our first stop was the bar and in a very trustworthy manner, you mark up how many beers you have taken from the fridge on the paper that has your details of when you arrived.
Kirk who we had traveled through from Mauritania was very helpful in showing me how to setup the roof tent and get the most from the other extra's on Maggie that we haven't tried out yet, such as the awning and the shower!!
It was the first time on this trip that we had found a place to camp in that was nice enough to basically do all the things you want to do such as vehicle maintenance, build campfires, cook and chill on the beach.
At the end of each day at the Zebra bar, the hunter gathers (Kirk and I) would make a fire while the ladies (Dale and Reka) would prepare the food, it sounds sexist I know but it really wasn't, there is also the process of cooking the food in the fire so the system works quite nicely, I didn't notice anyone else in the camp building a fire but they were crazy as there was plenty of wood, plenty of kindling and campfire bbq's or braais for me are just amazing.
Kirk also brought his guitar along and one night we spent many hours playing, he's a great at playing the harmonica so with Dale and Reka, we all had a good sing song.
Another bonus about the Zebra bar is that you can take out some canoes and after 20 minutes reach the other side of a preserved mangrove that you can walk through and eventually come out the other side to a beautiful undisturbed beach, the waves were strong and Reka did her impression of surfing with out a surfboard and had the scars to prove it.
Back to basics
One crazy afternoon we took a walk into a nearby village to see what food we could buy, we met a chap called Cloong Cloong (yes Cloong Cloong!) who helped us buy a chicken.  He took us to a few local houses to enquire about a chicken, he found one place where the lady of the house came out, greeted everyone and then agreed a price of 3000 CFA which is the equivalent of £4, which sounded reasonable and we then chose what looked like a decent looking chicken.
Thankfully we didn't have to catch it, another local guy came into her garden and within seconds had it by the legs.  Kirk had a trick whereby he rubbed the chicken's head and told us that this puts it to sleep, it seemed to work!
When we got back to the camp, we asked a guy who worked there to show us how to put the chicken to sleep very quickly, he took a knive from Kirk, put a bucket over her body (To stop the blood from going everywhere), and cut it's the neck, within a minute it has stopped moving and the chicken was ready to start its cooking process to get eventually onto the campfire.
Reka suggested pouring boiling water over the chicken to make it easier to pluck, so we did, and guess what, the feathers came off very easily!  A German guy came over to see what we were doing and told us that is normal to wait a day before you cook it otherwise it will be tough but we didn't have anything else to eat to we carried on with spicing it up.
We removed the gooey bits from inside, found a few almost mature eggs inside the chicken, and removed them to eat later.  We spatchcocked it onto a grill a few hours later and roasted it over some hot coals.
Unfortunately for us the German dude was correct, the chicken itself was tough, but overall it was a good experience and a good lesson on cooking from scratch if we were ever to have to do the same again!
A few days later we said our goodbyes to the lovely Kirk and Dale and hope that we meet up again in the future, they are on one hell of a journey and I'm sure it will be a fulfilling one (even though I still believe the Landrover rocks compared to the Landcruiser!).