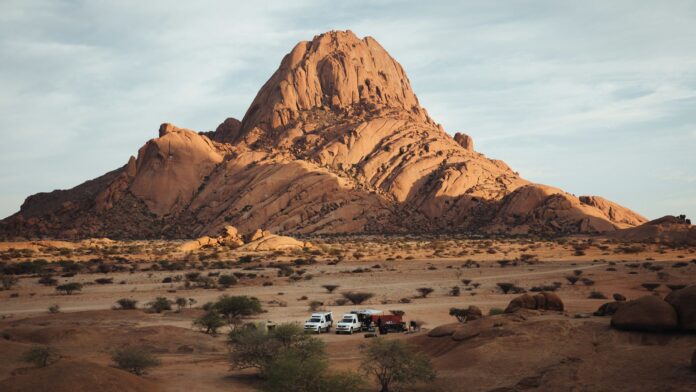 After exploring the red sand dunes of Sossusvlei, we didn't think Namibia could get more beautiful. But we hadn't visited Spitzkoppe yet!
About 150km (1.5 hours) northwest of Swakopmund lies Spitzkoppe (meaning 'pointed dome' in German, but also generously referred to as the 'Matterhorn of Namibia'). The bald granite peaks are not nearly as tall as the Matterhorn – the highest outcrop rises over 1,750 metres above sea level. But they more than 120 million years old, and stick out dramatically from the flat surrounding desert.
The road to Spitzkoppe
views_namibia_namib_desert_spitzkoppe
Panoramic views from the B2, headed to Spitzkoppe
From Sossusvlei, we drove just under 500km through Walvis Bay and then Swakopmund, two of the West Coast's major cities. Seeking greater adventures, we lingered only long enough to refuel and replenish some supplies (it's important to be fairly self-sufficient when visiting Spitzkoppe, especially food and water).
spitzkoppe_namib_desert_namibia
On the road to Spitzkoppe
Driving in Namibia can be an arduous affair, with long stretches of dirt road that seem to go on for miles and miles. The reward, however, is stunning landscapes for those that are patient enough to make the journey…
Why visit Spitzkoppe?
Sadly, many fellow overlanders we met during our time in Namibia had never heard of Spitzkoppe. It's definitely off the well-beaten tourist route, but the reward for those who make the journey is stunning landscape, unique to any other attractions in Namibia. It is definitely on the list of our top places to visit in Southern Africa!
Granite_boulders_spitzkoppe_namibia
Granite boulders, Spitzkoppe
The site is so beautiful and other-worldly that it was chosen as the backdrop to a few films, including Stanley Kubrick's 2001 Space Odyssey and 10,000 BC.
There are no shortage of activities to enjoy, including birding and stargazing the beautiful night sky in one of the many campsites. The main attraction, however, is a number of hiking and walking routes through the granite peaks to view Darama and San rock paintings.
rock_art_san_damara_spitzkoppe
Damara rock art at Spitzkoppe
There are at least 37 rock art sites, with a number of paintings relating to water and rain making rituals. These sites can only be visited with a guide due to their vulnerability, but guides can be easily booked at the reception!
There are 3 hiking routes available to tour the rock art sites, or just take in the beautiful scenery. Each with different difficulty levels: – fairly fit, fit or very fit. We chose the 'fairly fit' trail, and loved it!
Boulder_cave_spitzkoppe_namibia
Boulder cave at Spitzkoppe
There are also several climbing routes according to Mountain Climb Namibia. They recommend a 3-4 day stay to check out the various hikes and climbs.
I tried to climb some of the nearby rocks overlooking our campsite. I was wearing normal trainers / sneakers and I found the rocks to be very slippery in parts. A decent pair of climbing shoes is definitely recommended!
Community-owned campsite
The best place to camp is at Spitzkoppe Campsites, owned by a community association and run by a private company. Profits are shared on a 50/50 basis with the community of approximately 500 residents, who live in a harsh desert environment with limited water resources.
Dassie Spitzkoppe
Rock Dassie at Spitzkoppe
The cost was N135 per person ($10 per person) per night, with limited amenities (drop toilets and showers at the main gate). The staff at Spitzkoppe are really helpful and there is a small shop that you can purchase wood or other basic supplies. There is also an amazing cafe and bar area, with hammocks and sofas to stretch out on after a long (and hot!) day of hiking around.
Sunset at Spitzkoppe
Sunset at Spitzkoppe
We have camped in hundreds of campsites in Southern Africa, but these sites stand out as unique!
Our Campsite at Spitzkoppe
Our Campsite at Spitzkoppe