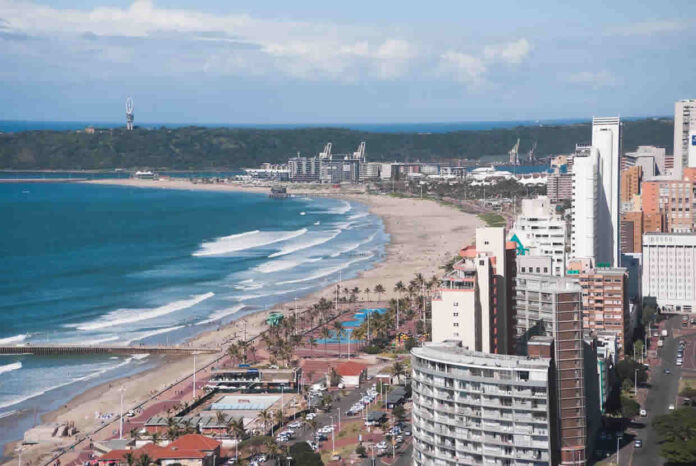 To get a satisfactory in depth experience of Durban, one needs at least three days. Sadly, this is a luxury we couldn't afford as we had only 24HRS left on our account for spending.
This called for proper planning. With the help of Jigeleza, a firm offering city tours, our team leaders, Lebo and Fathima came up with a simple itinerary that would unveil to us the A-Z of Durban. Here is a mix of adventures that took our breath way during the 24 hour tour, I recommend them.
First though, in case that name doesn't strike a note, Durban is a welcoming, spectacular and fascinating multi-cultural destination flanked by the warm Indian Ocean on the east and soaring peaks to the west.
Moses Mabhida Stadium
Topping the list of fascinating sites that will took our Durban experience to new heights was the Moses Mabhida stadium. It is one of the platforms that hosted the 2010 FIFA world cup. A two-minute Sky Car ride up the stadium arch, led us to a 106m-high vantage platform. From here, we got unparalleled 360º views of Durban and beyond. Atop this architectural marvel with a sitting capacity of 54,000, the entire city spread below, like a painting. It was a beautiful day. The sky was deep blue and the views are impressive and clear. People around me were craning their necks, reaching for cameras, wowing and smiling is admiration of the sweeping views.
It was a thrilling experience, but certainly not as mind-blowing as a bungee jump that happens inside the stadium off its 220m arc. The Big Rush Big Swing is what they call it and has been named the world's tallest swing by the Guinness Book of Records since 14 May 2011. While the Sky car ride costs R60, R55 and R30 per person, Pensioners and children respectively, the jump costs R695 per person.
Victoria Market
Considering Durban has one of the largest concentrations of Indians outside India, a visit Mahatma Gandhi's residence or Indian Market is a must. No other market in Durban has as many Indian traders as the Victoria Market. We felt welcomed at the shops in the indoor market which is within walking distance from Port of Durban. Having grown up in a country where Indians maintain their spiced up accent, it came as big surprising hearing the Indian traders speak in crisp English. Even more surprising is the fact that they haven't just sat back and let KwaZulu bliss wash over them.
They have learned to local dialect, learnt to enjoy chakalaka food (except for live crabs, no one learns to like something like that).
If you pay close attention, you'll notice they use the word "we" and not "they" when talking about Zulu's. They have gone so native that they remind me of an Italian friend who fell in love with Congo so much that he started drinking monkey milk.
Eat-out/Drink out
The streets of the rainbow city blossoms with many restaurants. One such is California, a vast street with an endless queue of restaurants, each specializing in unique cuisines from different parts of the world. Here, you will be spoilt for choice. Jumping from one restaurant to another will feel like you have been taken a tour around the world.
Apart from the love for good food, the other thing that most tourists we found here shared in common was being in Durban for repeat visits. One such is Asher Abby, 48, a US based Israelite whom I met with her husband on their third visit to Durban. Third visit in a space of four years to be exact. She finds many aspects of life here adorable, the friendliness of the people for instance. The way you'll be lost on the street, and there is this Indian boy with unkempt dreadlocks and army boots, looking like trouble, who will politely offer to assist in finding your way to your destination.
"In New York, nobody would want to bail you out." Says Asher, Amazed
Ushaka Marine Park
Ushaka Marine World, a humongous aquarium that exhibits unique creatures inclusive of Black throated monitors. Here, you can come face to face with a dolphin, pet a sting ray and snorkel with beautiful exotic fish species. Generally, rates of activities range from R50-R800 depending on the tourism season or duration of activity.
Street life
A walk around the streets of vibrant metropolis was a delight. Bearing in mind the apartheid past of South Africa, a reign that fuelled gross segregation as based on skin colour and religion, it was exciting watching whites hugging and high fiving blacks. I equally liked the way we walked stumbled into streets with mosques side by side with Christian churches. This spoke volumes about how South Africans has moved on from the apartheid hatred.
Golden Mile Beach
An adventurer cooling off the days steam with a
surfing expedition in the INDIAN ocean Sport fishing is among the most pursued activities
at the coast
If you badly needed to blow off the steam, you can crown the day by beholding the sun as it shyly disappears at Golden Mile. Due to different time zones, the sun here takes leave as early as 5pm. I must admit I still find this weird as I am used to watching the sun disappear at 7pm.
The Golden Mile, is a white sand beach in front of luxurious Star Hotels. It has a rich blend of natural beauty and modern resort. Being my first visit to a non-landlocked country, it was so exciting seeing the blue ocean spread before me in all splendor. Too bad though, the much I could do was just stand there are keep wowing as colleagues dared beat the surfs. I didn't know how to swim and thus couldn't risk giving the water spot a chance. In consolation, I turned to sports fishing.
If you love biking at the beach then Golden mile
beach has you covered Playing Football at the beach
Let's tally what we have so far. The stadium had the best panoramic views, the people live harmoniously, and there are so many restaurants. Where's the paradise? In the nightlife!!
The night life in this part of Kwazulu Natal arrives latter but with a delightful vengeance. Almost instantly, at the first hint of warmth, people begin to step out in their outfits for night and before long, the streets light up with neon bill boards. It is just perfect to do the only Durban thing, head out to sample the night life of the city. Among the many things to do includes sampling the street food like Shisa nyama meat, a barbecue but grilled in the old traditional Zulu way is served hot. Alternatively, you can enjoy local music at Umlazi, a downtown neighbourhood of Durban that was designated for indigenous South Africans and Indians during the apartheid times.
You can start your night by checking out cultural
villages that exhibit Zulu dance You can start your night by checking out cultural
villages that exhibit Zulu dance
At The Moon Exclusive Lounge, a contemporary club with a Zulu tradition found in the Suburbs of Durban, you can mingle with likeminded friends. One such is Makhosonke Phungula, a 42 year old Zulu. Personally, I was excited to meet Phungula not necessarily because everyone has said we should, but rather because it is my first time to meet someone with such a name. Sounds like some species of newly discovered god.
Best time to Visit Durban
These months to visit is June to August when the weather is dry and sunny. During this time, the Metropolis comes alive with many festivals ranging from beer, film, music to religious ones.