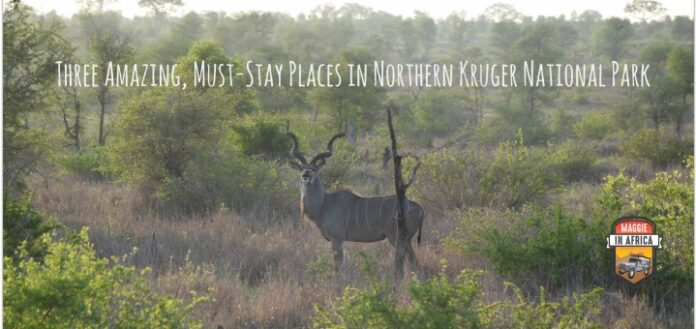 This week, Noel and I visited South Africa's most famous safari area: the Kruger National Park.
Kruger is one of Africa's biggest and best game parks. In Kruger's 2 million hectares, you can view nearly all of Africa's most sought-after safari animals, including lions, leopards, cheetahs, elephants, hippos, buffalo, rhino, giraffe and zebra.
Plenty of tour operators organise trips into Kruger – but many fail make it out of the popular southern areas.
The joy of Kruger is, in our opinions, the ability to explore the park's vast road network on a self-drive adventure, and stay in a wide range of sites, from government-run bush camps to five star luxury lodges.
So, here are three amazing places to stay in the north, one in each 'budget' category: camping, mid-range and luxury lodge.
1. Tsendze Rustic Camp Site
Entrance to the camp
Entrance to the camp
No noise, peace and quiet
No noise, peace and quiet
Our campsite
Our campsite
Noel, setting up camp
Noel, setting up camp
In the north, just 7km south of Mopani Rest Camp, is this government-run gem, the Tsendze Rustic Camp Site.
Unlike many of the other camps in the park, Tsendze is a camping-only site. Each of the 34 campsites (or 'stands' as they call them in SA) is surrounded by natural bush, making the site feel private and secluded.
And when they say 'rustic', they really mean it – there's no electricity here. Just you, the bush and some clean, solar-powered ablutions (with outdoor showers to boot!). The 'no noise' rule is strictly adhered to as well, making it a peaceful and quiet retreat for nature lovers.
But don't worry – you're not completely cut off. You can still book game drives and bush walks in nearby Mopani, and they will even pick you up from the gate at Tsendze. At just R275 per night for 2 people (plus the conservation fee), it's the best of both worlds!
2. The Shipandani and Sable Bird Hides
Shipandani Bird Hide
Shipandani Bird Hide
Entrance sign
Entrance sign
Marabou stork at Shipandani
Marabou stork at Shipandani
Hippos at Shipandani
Hippos at Shipandani
Bird hide by day, bush camp by night – what could be more unique than staying the night in one of Kruger's two best look-out points for wildlife?
The Shipandani Bird Hide (sometimes spelt Shipandane), which can be booked through the Mopani Rest Camp, sits on the banks of the Tsendze river. Open to the public during the day, it's an excellent place to spot hippos, crocodiles and many species of birds from the viewing gaps along the enclosure.
Even better if you can spend just R890 a night for 2 people to sleep there too. The beds that fold down from the walls come with bedding, and there is an eco-toilet and braai area. The rest is self-catering.
Similarly, the Sable Bird Hide, located just 10kms from the Phalaborwa Gate, overlooks the Sable Dam and is a great place to spot lions, elephants, wild dog and hyenas at night.
Tips: book directly with SAN Parks to get the best price, and book early – these are very popular sites and there are only two in the whole park!
3. Pafuri Camp, Return Africa
12829320_592540394242145_1154610442119638475_o
12438980_572049996291185_8428872124848525651_n
12783676_588997111263140_8956068957447152577_o
12710927_580852595410925_1703829542219556051_o
Images courtesy of the Return Africa Facebook Page.
Those looking to splurge on a luxury safari experience in the north should look no further than the Parfuri Camp, run by Return Africa, in the northernmost section of Kruger near the infamous 'crooks' corner'.
Why we love this camp: it's located in the Makuleke concession and benefits from the lodge go to support and sustain the local indigenous community. And, of course, it's stunning location on the Luvuvhu river and five-star facilities.
The camp has 19 luxury tents with ensuite bathrooms for between R4,680 and R6,600 per night (for two people full board to all inclusive). Activities that can be booked are geared towards nature lovers, and include birding walks, game drives, as well as cultural and historical guided experiences.
The camp also organises four-day guided walking trails with full-service camping.
Have we missed any other hidden gems in the north? Where's your favourite place to stay in Kruger? Comment below!