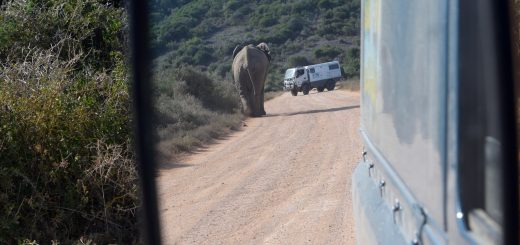 After leaving the amazing Wild Coast, and stopping in Port Elizabeth to partake in some 4×4 training, Noel and I headed to the Addo Elephant Park. We've met a few fellow travellers and South Africans who told us that Addo is one of South Africa's best wildlife parks, so we were really excited to check it out.
Some facts about Addo – it's called an Elephant Park for a reason. More than 600 reasons to be exact!
But African elephants are certainly not all there are to see. Addo is South Africa's third-largest park, after the Kgalagadi Transfrontier and Kruger. In addition to elephants, visitors can expect to spot some cape buffalo, the endangered black rhino, zebras, hartebeest, and lions.
Fun fact: Addo is also the only national park to feature whales and great white sharks, in the marine park that we didn't get to visit…
Nevertheless, we were really excited to see some red hartebeest. Sometimes, after going on a number of safaris, seeing loads of the same type of antelope can get boring (Oh lord, please don't brake for another impala!). It was definitely a welcome sight to see red hartebeests, which look like cone-head antelope but are actually bovines.
And who can resist a Kudu – with those ears that remind me of Avatar!
Ok, so this photo below doesn't capture just how large the African tortoise is – this one was almost as big as our tyre.
Noel and I aren't big ornithologists, but Addo is certainly a bird lovers paradise with over 800 species. Our favourite spot was this black-headed heron with its amazing s-shaped neck.
Can't forget the zebra!
While finishing off our afternoon game drive, we spotted a lone cape buffalo to our right. So we stopped to take a picture. A few moments later, we looked to our left to see a huge herd of buffalo headed straight towards Maggie!
Definitely the most terrifying experience of the trip was watching a bull elephant charge the most frightened Earth Cruiser driver we've ever seen 🙂
Phew, luckily the elephant wasn't too committed, and ran off into the bush after we snapped this photo.