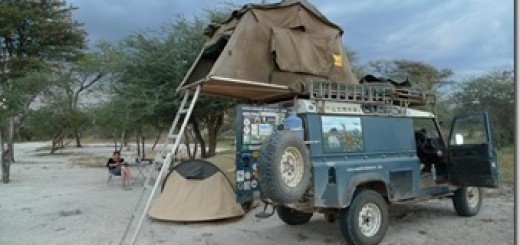 Nata, Elephant White Sands
On our way to Maun we stopped over in Nata, it's a small dust bowl of a town but there is a campsite there 30 or so km before you hit the town called Elephant Sands.
The campsite is covered in White sand and guess what, there are plenty of Elephants!
We ended up staying there a few nights as the place was so magical it would have been rude to leave after one night! The campsite had it's own supply of wood for guests so our campfire was always roasting hot during the cold wintery nights.
At one point the Matriarch of the dozen or so elephants that passed through the campsite smashing there way through the trees in their path stopped and checked Reka and I out and she must have been literally 20 metres away, to be that close to an amazing animal is exhilarating and something that is difficult to ever forget.
It was also here that I said a fond farewell to 2 of my closest items of clothing, my flip flops and my shorts, they had both been lovingly worn throughout the 8 months of my travels but were at the stage that they had been through several repair jobs via Reka and myself and shoe repair people along the way and they finally had to be put down!