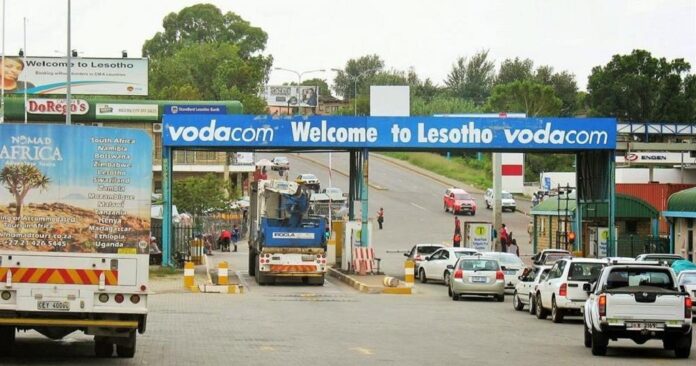 Like many overland border crossings in Southern Africa, crossing from South Africa to Lesotho and back again was no problem at all. Minimal hassle, and no paperwork or corruption.
Which border crossing to choose?
There are 13 overland border crossings between South Africa and Lesotho. Which one to choose will depend on where you're going and what time you'd like to cross.
We chose two borders crossings:
Sani Pass on the way into Lesotho, to take in some breathtaking mountain scenery;  and
Qacha's Nek on the way out of Lesotho, due to its proximity to the Wild Coast, which is where we were headed next.
Border crossing requirements: Lesotho
Besides the usual things – including a valid passport – not much documentation is required.
Most European and North American passport holders don't need a visa to enter, and only a M30 (R30) fee is required for road tax. When we crossed, we were asked how many days we would like (max of 90), and our UK passports were stamped for two weeks.
The officials also weren't interested in whether we owned Maggie (who is registered in Botswana), although it's always a good idea to have ownership documents to hand. Third party insurance was also not required of us, although it is also a good idea to bring insurance documentation.
If you're in a rental, make sure you ask the company to write you a letter of permission to bring the vehicle across the border, as there is a possibility that officials will want to see it. And if you have a non-SACU registered vehicle, a carnet de passage is recommended.
Sani Pass Border Crossing
At 2,876 metres above sea level, the Sani Pass is South Africa and Lesotho's highest border, and arguably the most beautiful. Because the road is strictly 4×4, there were no queues on either side. Crossing was easy and efficient, with no paperwork necessary! On the Lesotho side, we received a stamp and paid for road tax from the same official.

Qacha's Nek Border Crossing
This border, located in the south of Lesotho, was slightly bigger and busier than Sani Pass, but still not very large or very busy. But both the Lesotho and South Africa sides were quick and efficient – we were in and out in under 5 minutes on each side.
The drive to Qacha's Nek is also one of the more scenic routes. The road from Lesotho into South Africa control is approximately 25 km of gravel road, but passably by 2WD vehicles.
South Africa's new tourist visa rules
The only negative aspect of our border crossing experience was in relation to South Africa's new tourist visa rules, which came into effect in 2015. When passing through Swaziland and Lesotho, we weren't allowed any extra days on our original 90-day visa. In the past, border officials could issue new 90 day visas after crossing these borders, even if only for a day.
Visitors are now required to apply for an extension through VFS Global, with a hefty price tag and long waiting period (upwards of 60 days). So, unfortunately, this means that we'll need to leave South Africa sooner than anticipated