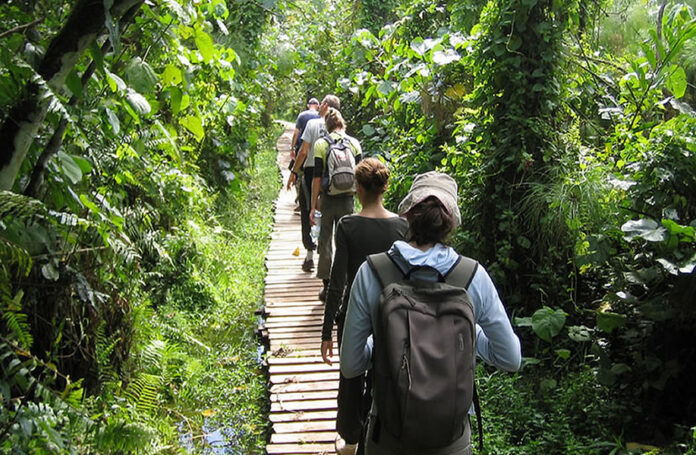 When you add peace, love, and trust, the answer you'll most likely get is Happiness. When I added Eco-friendly, Cozy, and good location, the answer to these inviting words ended up as Budongo Eco Lodge.
Among the things that have kept me coming back to this facility, which features eco-cabins and homely dormitories, is its unbeatable location. It is found in the heart of the Budongo Central Forest Reserve, an unspoiled tropical forest on the Southern side of Murchison Falls National park, Uganda's biggest game park. The reserve has a special place in the hearts of primate lovers as it has over 600 chimpanzees. This makes it one of the key natural attractions with the largest chimpanzee population in Uganda, but that is a story for another day.
Thanks to its location, an area rich in fauna and flora, the lodge offer the healing power of nature. Altogether, it features five eco-cabins with private verandas, four homely dormitory rooms, a guest lounge, a fully stocked bar, and a restaurant with free Wi-Fi. In the true philosophy of Eco-friendliness, all of these are built out of simple natural materials that harmonize with the surrounding like wooden walls and floors, polished regularly with attention to detail. Its décor on the other hand is of a rich African heritage to re-connect one with the gallant Africa that existed before they were born.
Its bathrooms are clean and tidy. However, what really makes them stand out is their Eco-toilets. To my dear ones still living under the rock, Eco-toilets is a fancy word for latrines with a sitting bowl. They are fashioned to impress and constantly freshened. As such, they are the type one would dine in with a smile.
Compared to the other lodges across the country, Budongo is unique for its rich history in the discovery of primatology. Prior to August 2009, it served as a research center for Dr. Jane Goodall and her Team as they studied chimpanzees for over 10 five years. Simply put, a visit here treats you to '' a day in the shoes of Dr. Jane Goodall''. Regardless of which you chose to stay, you are almost guaranteed of experiencing the friendliness of these primates which come across as man's closest relatives, sharing 98.7% common DNA.
Better still if you desire a more in-depth experience, the pleasure is all yours to delve deeper into the forest for a chimpanzee tracking excursion. While it is possible to have a self-guided adventure, I highly recommend you head out in the company of one of the guides at the lodge. One such is Kibota, a calm agent who knows how to add life and colour to the activity has been in the forest for over 10 years.
While at it, brace yourself for random sightings of plenty of forest bird species with soothing calls that flirter the earbuds. One such is the Puvel's Illadopses, a rare species endemic to East Africa.
A visit to Budongo is incomplete without exploring the other scenic wings of Murchison. While a game drive will offer you endearing encounters with graceful Rothschild giraffes and the Big five(exclusive of rhinos), taking a two-hour boat cruise to the mouth of the falls will treat you to the sight of over 200 bird species. This makes Murchison a perfect destination for nature photographers and animal lovers alike.