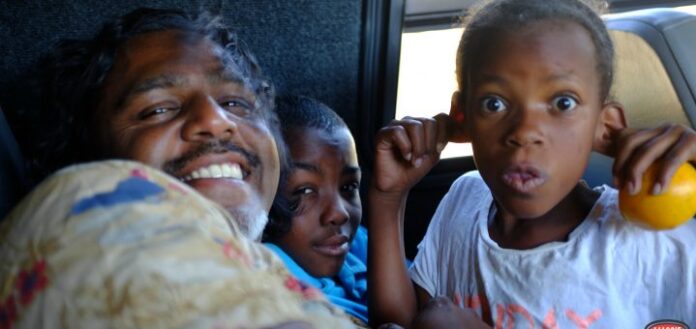 HELP US SUPPORT MAMMADU!
Noel, Marilu and Maggie are pleased to announce that we've donated US$1,000 (N$15,000) to an amazing children's organisation in Namibia. Mammadu is a children's shelter in Otjomusie, a suburb of Windhoek, where most families live well below the poverty line.
The shelter hosts 40 children who live in situations of abandonment and deprivation. Many of the children have destitute parents, are HIV positive and/or have alcohol abuse in their families. The shelter provides a safe and welcoming place where children receive food, and can study and play safely.
Mammadu's key objective is to ensure the children's well-being. Other objectives include:
Meeting the childrens' basic needs, such as nutrition, health and hygiene;
Ensuring that each child attains an adequate education level;
Promoting fundraising initiatives and projects with the contribution of donors and sponsors; and
Organising voluntary work for those willing to devote their abilities and time to the children.
A rewarding volunteer experience in Namibia
volunteering-namibia-children-teaching
Volunteers helping children learn to read in English
We feel so lucky to have had the opportunity to volunteer with Mammadu for a month. Our volunteer experience came about after Maggie, our beloved Land Rover, broke down in Namibia. With a lot of time on our hands, we went in search of an organisation to support and volunteer with.
When we first found out about the organisation, we knew we would have a great experience. Agnes, the founder and director, emailed us back straight away to let us know we were welcome to come to the centre to work with the children.
And, of course, the best part of the experience was getting to know the children. The shelter hosts two groups: pre-school children (4-6 years) in the morning, and primary and secondary school children (up to 13 years) in the afternoon.
The kids are used to having many volunteers visit them from around the world – and they loved asking us questions about our home countries. The children made us feel welcome in no time at all. Over the past few weeks, we have bonded with all the children, and will be so sad to leave them!
volunteering-namibia-children-teaching
Homework before play at Mammadu children's shelter
Income Generation Project at Mammadu
Mammadu has also created a space for women to learn some craft making skills and earn an income from the sale of these crafts. Almost everything is made from recycled materials, and the handbags are probably the best use of a plastic bags we have ever seen!
Mammadu is also in the process of expanding its programme, and will soon open a small bakery that will sell bread to the community.
How you can support Mammadu
There are a number of ways to support Mammadu!
You can donate to our GoFundMe campaign (link below), and designate that the funds go to support Mammadu. We promise that all funds will go directly to Mammadu, and we even donate the fees charged by GoFundMe from our own pockets!
OR you can donate directly to Mammadu via their Global Giving page, where you can sponsor one of their amazing children. Sponsorship allows you to keep in touch with your sponsored child via email and social media. To support one of these amazing kids through a year of good quality education costs just US$225 per year!
Give Now
Mammadu is registered as a charity in Italy and Germany, and as a trust in Namibia, so donors from those countries will receive tax benefits. Donations through GlobalGiving are also tax exempt in the US.
Mammadu regularly accepts volunteers. For more information on how to support directly or volunteer, check out Mammadu's wesbite, or contact Agnes directly at: agnes@mammadu.org.