After spending a week on Lake Malawi, Maggie and the team headed north to Tanzania for some wildlife adventure. Our first stop was Ruaha National Park – Tanzania's largest national park.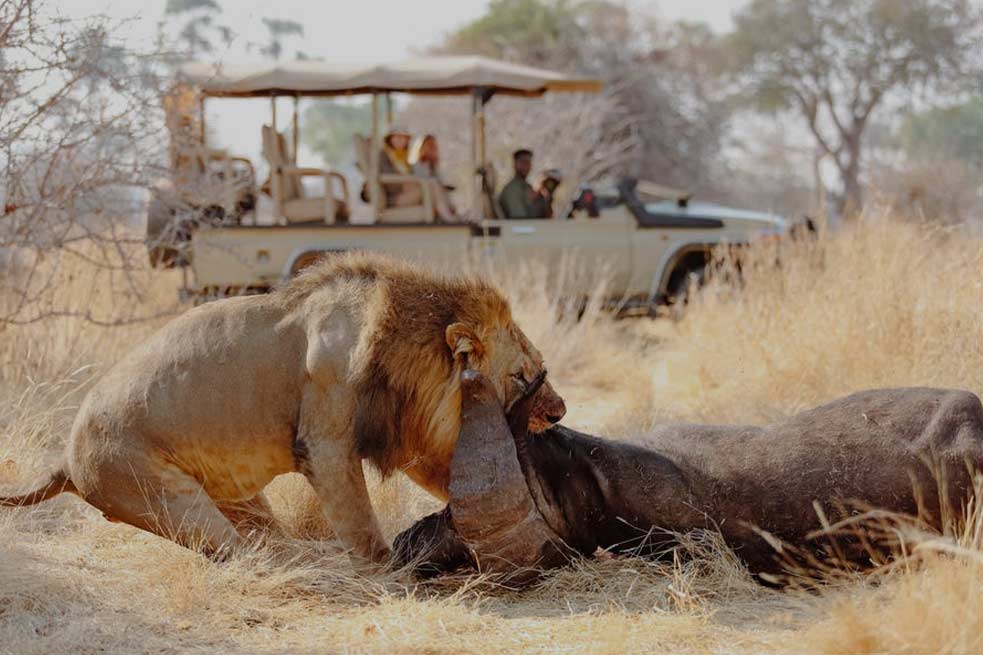 Tanzania is well known for its wildlife and stunning national parks. A word of warning, however, about self-driving national parks in Tanzania: they are really, really expensive. Like $600 per day expensive (for 2 people and a foreign registered vehicle for Ngorogoro and Serengeti).
So, for those on a more down-to-earth budget, we read that Ruaha (at $118 per day for two people and a vehicle) is a hidden gem, and it definitely proved to be true…
Ruaha National Park
Ruaha National Park is the largest national park in Tanzania. It covers an area of about 13,000 square kilometres – roughly the size of Wales, so we were told.
The park is is home to 571 species of bird and some of them are known to be migrants from within and outside Africa.
Animals such as kudu, sable and roan antelopes can be spotted, and there is also a small population of the endangered wild dog. Other animals in the park include: lions, leopards, cheetah, giraffes, zebras, elands, impala, bat eared foxes and jackals. Ruaha is believed to have high concentration of elephants than any national park in East Africa!
How to get to Ruaha
To get to the main gate, drive west from Iringa over 130km of corrugated dirt road. It's worth noting that the road to the park entrance is in horrible condition. It's unofficially called 'the never ending road' – and for good reason. While the drive can be very beautiful, it may leave you with a few less teeth…
When to visit
The best time to visit Ruaha is during the dry season (June to October). The park experiences it's rainy season during November to February. However, we didn't see much sign of rainfall when we visited in early November, and we got to take advantage of low season pricing. While it might be possible to visit the park year round, we were told that many camps in the park become inaccessible and therefore close in February and March.
Park entry fees
The fees for entering the park are US$30 per person per day, plus US$40 per (foreign registered) vehicle. Add on top of this 18% VAT, and any charges for camping or accommodation. So, for one day in the park (fees are valid for 24 hours), we paid $118, in addition to accommodation.
Before you freak out at this crazy high price – this is actually one of Tanzania's more affordable national parks. Especially in comparison to parks in the northern circuit, the cheapest of which (Lake Mantra and Tangire) are $150 per day for two people and a vehicle, and don't offer nearly as much wildlife or space!
For the money, we squeezed in two game drives – one in the afternoon and one in the morning. The park gates are open from 6am to 6pm. The gate accepts visa and master card – but note that the safari camps may not!
Where to camp
Our advice: don't bother camping. The park offers two public campsites at a whopping $30 per person per night, with limited to no facilities. For $50 per person per night, you can enjoy one of a number of 'special' campsites with no facilities whatsoever.
So instead, we treated ourselves to some affordable luxury at the Mwagusi Safari Camp. For $150 per person per night (low season price), this included a beautiful banda on the river bed, hot showers powered by the sun, and all meals. And the wildlife viewing from our balcony was the best part!
We really enjoyed our night at Mwagusi. We had a herd of elephants on our doorstep throughout the night and the banda was the most luxurious tent we have ever stayed in. The staff were very friendly and we enjoyed the delicious food.
If you are you looking for a stay in a Tanzanian national park that doesn't break the bank (Serengeti and Ngorogoro crater visits will break many a bank!), then Ruaha National Park is the place to go…